Mauritania; understanding rural communities and palliative care
EAPC 2017 conference…..summer in Madrid
Integrating palliative care…impressions from Joyce and our link nurses

Cairdeas


26th May 2017
Integrating palliative care into health systems is a global need and we are privileged to develop and evaluate models in a government hospital setting. We have pioneered the use of trained focal persons sometimes called link nurses (though they are not all nurses) who are trained and mentored to identify and manage palliative care problems at ward level. They cover areas such as surgical, burns unit, HIV, sickle cell clinics as well as oncology, gynaecology and medicine. We have evaluated and published this work and now extending it to 11 other settings here in Uganda but also in Rwanda and India.
A long time supporter and now new Trustee of Cairdeas visited and met many of our link nurses and shares her experience
'Ten Years on .... One afternoon in December 2006 whilst on holiday in South India, I sat listening to Mhoira and Dr Rajagopal explore ideas of how best to improve standards of palliative care in South India. Cairdeas was then in its infancy – a tiny charity with a global vision. Ten years later, I have just returned from a brief visit to Uganda where, from its base in Kampala, the work of Cairdeas now extends to Sudan, Mauritania and Gaza.
Highlights of my trip included meeting some of the enthusiastic and inspirational team based at Mulago Hospital – Loy who works in a paediatric ward where almost one hundred children are cared for sometimes by only two nurses – Josephine who although old enough to be retired, enthusiastically keeps working to train and mentor link nurses on the community training programme – Georgina who came into the hospital on her day off, just so that I could have some time hearing about her work – and these are only a few!
Behind the scenes is a committed group of professionals who administer, train, mentor, evaluate, audit, conduct evidence based research, all of which provides accountability and credibility to the work being done. I was conscious of the vast amount of time devoted to the on-going search for funding and the endless application forms which need to be completed. Travel is an integral part of any global project and I was very aware of the personal cost to those who live itinerant lives – attending conferences and training events, organising groups of representatives, arranging transport, estimating expenditure, 'keeping the show on the road', whilst still somehow finding the energy needed to inspire others and 'grow' the project.
The team of the link-nurse programme struck me as a group who work very hard . . . but also know how to play (could 'the boss' have anything to do with this?). There was lots of fun and laughter, combined with a sense of respecting and valuing each other which to me indicated their learning in palliative care has become integral to the people they now are. As one nurse said to me, 'we are changed'. The experiences of the most vulnerable human beings have changed because the approach and attitude of those looking after them has changed – what a privilege to be in any way involved in such a process!
Thanks Joyce...Alice has also interviewed several nurses trained more recently as well as their mentor Florence and asked them about their experience.
'Hello, I'm called Florence. I have worked with the MPCU for seven years, but have been working in Palliative Care for seventeen years. I am now based in the medical wards at Kirrudu National Referral Hospital, seeing referrals in this 700 bed hospital, and also leading the Link Nurse programme. MPCU carried out a 'needs assessment' in 2011 that found that 45% of inpatients in our hospital had significant Palliative Care needs. Unfortunately, our team is limited in number and cannot see all of these patients individually. So we decided to train nurses on the wards, who are working more closely with the patients as 'link nurses'. These are helping us by managing patients who have needs at level 1 [palliative care needs that can be met at ward level by all health and social care workers] and level 2 [palliative care needs that can be met at ward level by health and social care workers who have had additional training], offering them Palliative Care. They assess and manage the patients, but then alert their doctors and refer to us if the patient has more complex symptoms. Starting in Mulago Hospital it is now really helping here at Kirrudu Hospital, with nurses from outpatients on the first floor all the way to the dialysis unit on floor four being trained. Palliative Care is becoming integrated into practice on all our hospital wards.
We train each nurse through a process of teaching and mentoring, which is really enjoyable. We put them in class where they are taught by different members of the MPCU team, then they brainstorm how this works in their clinical practice and then a two day placement with us, where I work with them and take them through the practical part, demonstrating to them how to give morphine and assess a patient. We teach the basics in palliative care including: how to do an assessment of a patient to find out their needs, how to break bad news, how to communicate with the patients and their families and how to care for the terminally ill. This helps them to care for the patients they see on the wards, often with cancer or non-communicable diseases. It's having a really good impact. As one person, I can't see all the patients in the 700 bed hospital. But now we have twenty trained nurses. So they are the clinicians who can offer Palliative Care alongside the ward doctors to those patients who have basic needs, but link those with more complex needs to the MPCU team. They are bridging the gap. For example, I was being asked to see patients on the burns unit who were struggling with pain management. Now they know that they before changing dressings, they must give morphine to minimise procedural pain and this means I can focus on managing the patients with more complex palliative care needs.'
Thank you Florence, keep up the good work. Alice then spoke to two of our link nurses to find out how doing the training has changed their practice.
Irene Nassuuna, is a nursing officer working in Kirrudu Hospital currently leading the team in the outpatient department. 'I first heard about Palliative Care ten years ago when I was working at Nsambya hospital. But I didn't understand what a difference it made. I thought it was only for cancer patients and patients who were just about to die. But I saw sister Florence was interested in much more than just cancer patients and morphine and so I started asking her more questions about Palliative Care and the link nurse programme. I found a young patient on my ward with liver cancer, but who was in a lot of pain. Following my training I was able to spend time explaining to her about her disease and with the ward doctor, started her on morphine. We also counselled the relatives who required more input at which point we referred to the MPCU team. I felt much more confident in managing this patient. It is really important to have more nurses trained in Palliative Care as it changes the attitude of the nurses to patients, draws them closer to patients and helps them think holistically.'
Jane Bujonjo, is a senior nursing officer, in charge of level 6 wards, neurology, endocrine and haematology wards. 'I learned so many things! It changed my attitude so I can communicate better with the caretakers and offer more support. On the wards, it has brought me closer to patients as I work find out what their individual needs are. There is always something we can do.'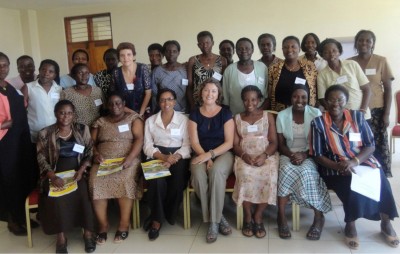 Original link nurse training group 2011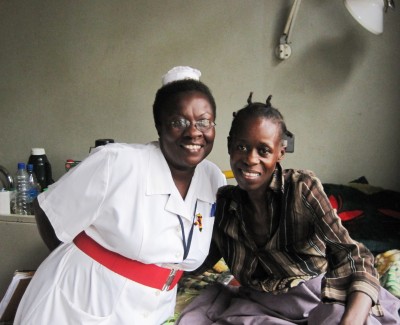 Josephine Kabahweza, our first link nurse mentor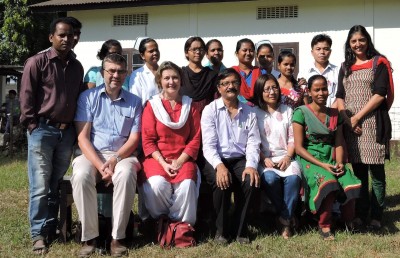 Link nurses in Baptist Christian Hospital, Tezpur, India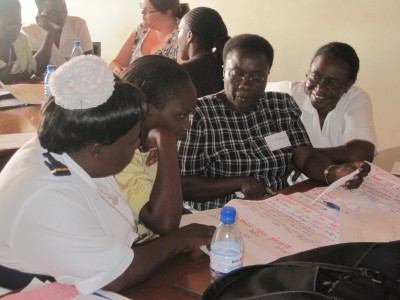 Teaching sessions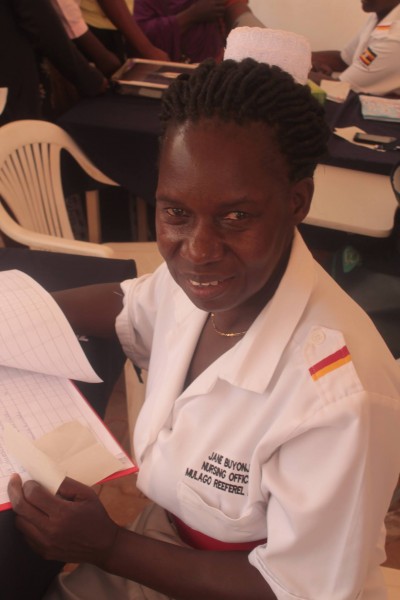 Jane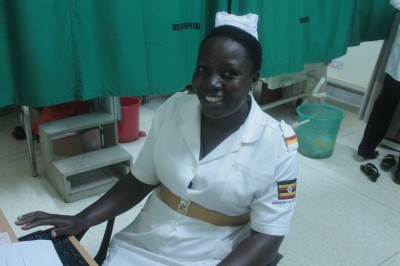 Irene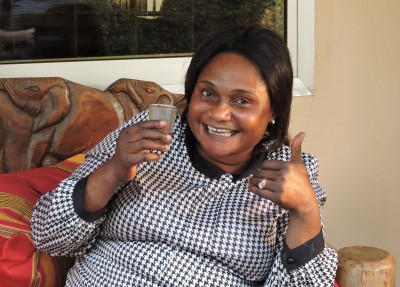 Florence from MPCU; our Kirrudu Hospital mmentor
Ready for Africa??? Reflections on spirituality
India; first impressions and IAPCON 2017
The Religions of the World Charter for Children's Palliative Care; a ground breaking initiative.
Hidden lives, hidden patients; refugees
Medicine for Investors
Christmas support!!!...buy a pig, support a volunteer, enable scholarships
Mentoring in Uganda
Tales from Mauritania and Cairdeas Sahara
"I'm not a medic, but I can help" - Thoughts on my volunteering experience
Sharing the vision
Welcome back to Cairdeas.org.uk
Transforming practise; transforming lives; transforming societies
Soul's worth
Refreshment in a dry land
Daily life in Kampala
Odisha experience, chilly Delhi and Assam adventures
Angels
WWLD and WWJD
Inspiring leaders
Tastes of heaven; part 2; west african spice
Tastes of heaven; part 1
Love feasts and other Christmas traditions
Giraffe mobs and other teaching tales
Multi-national Delhi
Learning by Degree
Reflections in Africa
India; whirlwind tour
Morphine for Christmas
Travels with Cairdeas
Scotland meets Uganda
A 'Degree for Africa' reaches further
Monsoon and mentoring
Hope and courage
Building for the future
A beautiful world
Christmas in Africa 2009