A Day In The Life of Grace Kivumbi

Cairdeas


29th January 2019
My name is Grace Kivumbi and I am the Unit Manager with the Palliative Care Education & Research Consortium (PcERC) & MPCU based in Kampala, Uganda. So where do I start in telling you about my role? There is so much, and every day is different! What I am about to recount is not exactly a typical day, as this would be too much to pack into one day, so let me describe what might be a typical week or a month for me…..
I suppose the most important thing is for me is to keep the daily operations of the office up and running; I am supported by an administration assistant to do this. Finance is a big part of the role as I keep on top of budgets for both PcERC and the Makerere & Mulago Palliative Care Unit (MMPC). There are lots of requisitions to complete as I ensure we stay accountable for all of the activities and projects we run, and there are so many statutory requirements that I have to make sure are met.
I am a 'people person' so whilst I do lots of behind-the-scenes work in supporting staff recruitment, contracts and appraisals, I love it when I get to work alongside people - I enjoy the camaraderie and support. For example, I have a colleague based in the UK (the Cairdeas Operations Director) and I enjoy it when we have Skype calls to work out issues regarding reports or finances. I like to collaborate, so this suits me, and although email is great it is even better to see someone's face and connect that way!
You could say I keep other people moving! I mean this in so far as I provide logistical support for international placements in the unit, including flights, travel and accommodation. For example, when we have young doctors coming from the UK to do work placements here in Uganda, they are coming for anything from between two months to one year and, understandably, they have lots of questions about the culture, customs and practices, as well as the practicalities. I try to be available to answer all of their questions! Support ranges from helping with preparation for visas, arranging for them to travel from the airport to where they are staying, obtaining work licences and settling down to work with the team. It is lovely when they arrive and I am finally able to meet them.
Lots of my work is alongside the Cairdeas Medical Director, Dr. Mhoira Leng. Dr. Mhoira is very dynamic and energetic and she travels extensively throughout the world and I help with her travel plans and bookings. I sometimes wonder where she gets her energy from! I provide financial support to Dr. Mhoira including predicting monthly costs for international travel, advance requisitions and accountability.
There is a group called 'The Cairdeas Faculty'. This is a group of professional volunteers who are linked to Cairdeas to create a pool of expertise, and who are available to support the work of Cairdeas and other partners through mentoring, training, curriculum development, capacity building and clinical work to facilitate the growth of palliative care. Whenever faculty members travel to Uganda I am often called upon to helpsort out the logistics including organising their airport transfers, accommodation and local travels.
We are lucky enough to manage some grant funding from National and International donors and grant makers for various projects, fieldwork and research. My work is kept interesting as I participate in both the grant writing and in the narrative reports that we send back to them to update them on progress and its so rewarding when our work and efforts in improving the quality of life of patients are families under our care is appreciated by those that support us.
One of the roles I am quite proud of is that I am currently champion for the American Cancer Society SOURCE - Strengthening Organisations for a United Response against the Cancer Epidemic. This is a program aimed at strengthening organisations in the different areas of organisation development and the role of the champion is to act as an internal change agent in the organisation. I am learning a lot from being part of this.
Of course, as with life in general, things at work can be unpredictable and sometimes precarious. Right now MPCU & PcERC are going through a hard time with funding, and we are energetically seeking donations to support our vital work. We are determined to keep planning and keep going in the face of hard times for the sake of those who rely on us, and I am keeping on top of our work plans and continuing to budget for the future of the Unit.
In March 2019 PcERC is launching an important fundraising campaign under the slogan - #bringinghope - this is really important for our future work and sustainability and we hope you will look out for it next month a consider supporting us.
I am so grateful for those of you reading this who have helped MPCU and PcERC to date and to those you who might be moved to help us in the future, thank you.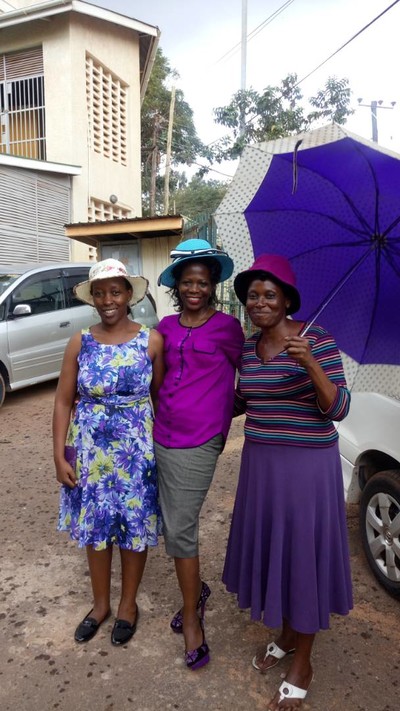 Grace (centre) looking dapper in her hat and flanked on either side by her colleagues, both named Liz!
An Inspiring Day at the SPCC Annual Conference
Developing Palliative Care in Mauritania
Esther: My Journey In Palliative Care
Ensuring None Are Left Behind - More on the 2018 Global PC Day
An Overview of the 2018 Global Palliative Care Day - Presentations Now Available
Hope in Bethlehem
Practical Ways of Helping The Work of Cairdeas
Toko Friday – How Cairdeas is helping me follow my true vocation
Mapping The Way Ahead – New Strategic Plan Launched
Warmth, Sympathy and Understanding: Dr M.R. Rajagopal visits Edinburgh
Shaping Palliative Care Work Globally
Take A Deep Breath
Conference Marks Decade of Successful Collaboration
Purple Parties… Stuck for ideas?
Peace on earth, goodwill towards all
A jam-packed palliative care weekend in Edinburgh!
UCI-PCAU JOINT CONFERENCE 2017
Happy as pigs in muck
Mauritania; understanding rural communities and palliative care
EAPC 2017 conference…..summer in Madrid
Integrating palliative care…impressions from Joyce and our link nurses
Ready for Africa??? Reflections on spirituality
India; first impressions and IAPCON 2017
The Religions of the World Charter for Children's Palliative Care; a ground breaking initiative.
Hidden lives, hidden patients; refugees
Medicine for Investors
Christmas support!!!...buy a pig, support a volunteer, enable scholarships
Mentoring in Uganda
Tales from Mauritania and Cairdeas Sahara
"I'm not a medic, but I can help" - Thoughts on my volunteering experience
Sharing the vision
Welcome back to Cairdeas.org.uk
Transforming practise; transforming lives; transforming societies
Soul's worth
Refreshment in a dry land
Daily life in Kampala
Odisha experience, chilly Delhi and Assam adventures
Angels
WWLD and WWJD
Inspiring leaders
Tastes of heaven; part 2; west african spice
Tastes of heaven; part 1
Love feasts and other Christmas traditions
Giraffe mobs and other teaching tales
Multi-national Delhi
Learning by Degree
Reflections in Africa
India; whirlwind tour
Morphine for Christmas
Travels with Cairdeas
Scotland meets Uganda
A 'Degree for Africa' reaches further
Monsoon and mentoring
Hope and courage
Building for the future
A beautiful world
Christmas in Africa 2009