Cairdeas


15th July 2022
Our visiting doctor, Kathleen Mcgeough, who had been with us at Cairdeas for six months this year, shares some thoughts on the routine they built while volunteering in Uganda. To hear more about our visiting doctors and their time in Uganda, visit the complete blogs at Kate Howorth and Kathleen Mcgeough.
_________________________________________________________________________________________________________________
The time my day starts depends on whether I am at Mulago Hospital (leave the house at 7:05) or Kiruddu Hospital (leave at 7:35). We generally start the day by meeting with the clinical team in the morning to go through our list of patients and decide who needs seen. These patients are then divided between us (with a translator for Kate and I) and we start our reviews. A large part of the job is assessing and trying to treat symptoms, but a large part is also discussing (sometimes more debating) with other doctors what our treatment priorities should be. An example of this is on the renal wards. We get a lot of referrals of patients who cannot afford dialysis; either they cannot afford to start it or it has been started but they can no longer afford to continue.
The cost of initiating dialysis is over £200 as patients have to pay for central line insertion, blood tests, medications and the actual dialysis. This is more than the annual salary for many patients and many families face choosing between financial ruin and starting treatment. We spend a lot of time on the renal unit discussing with the ward doctors what our treatment goals are; it is painful to hear that families have sold their homes and everything they own for 2 weeks- worth of dialysis before having to stop treatment and facing the inevitable deterioration from renal failure. Instead we try to ensure that the ward doctors have frank and honest conversations with their patients and consider the benefits and risks on an individual basis.
We tend to finish our reviews and clerking new patients by the afternoon and try to beat the traffic on the way home. Alongside the ward reviews we have been doing a lot of teaching. This has ranged from undergraduate to postgraduate teaching. Thanks to zoom, we can often do these from home as most teaching has remained virtual. As well as delivering lots of teaching there has been plenty opportunity for me to attend teaching. This has been either "mini rounds" where an interesting case is presented followed by teaching and discussion as well as journal club.
The main week to week variation has been medical students. We teach students from 2 different universities- one university sends a large group of students (currently 32!) to the unit for a block of 4 weeks while the other university sends a smaller group (8 students) on alternate weeks. This makes a massive difference to the workload for the week; the weeks we have medical students involve a lot more bedside teaching and therefore slower ward reviews. There is also the Friday PBL session which takes a good few hours going through 3 different cases- wish me luck doing that with a class of 40! We have been lucky to have post-graduates rotate through the department, once they have been with us for a week or so they are able to work more independently and help share the work load.
The weekly routine generally involves 3 days at Mulago and 2 days at Kiruddu- though this can change with public holidays, staff absences or when the case load is much greater in one hospital. We have also managed some routine in our personal life. Tuesday evening is yoga, Wednesday is Quiz night and we have tried to stick to a "Fun Friday" where we treat ourselves to a milkshake, cake or even a cocktail seeing as its Friday! We try and go to the gym regularly, luckily it is walking distance so we tend to manage at least 3 times a week.
Generally the variation month to month has been dependent on medical students. March was an overwhelming month as we had a large group of students, GP trainees and internal medicine trainees whilst Kate and I where trying to find our feet with how things are done. There was also loads of teaching that we delivered and attended. April was slightly different, we did not have many medical students which made it easier to get stuck into clinical work and get to know our colleagues in both hospitals better. In May we where lucky enough to travel to the North of Uganda to participate in some research, though I've already bored you with this in another post.
We have tried to make the most of being here and filled our weekends with adventures and activities. Being away in Uganda for a longer period has meant we have been able to build up a network of friends outside of work and have started to feel like we have managed to build a bit of a life here. Our colleagues have expressed how grateful they are for the extra woman-power but have also been keen for us to explore the Pearl of Africa and enjoy everything Uganda has to offer. I have just had some annual leave travelling around Uganda, and it truly was amazing. 3 days back at work now and it's like I've never been away… though there is something comforting about a routine.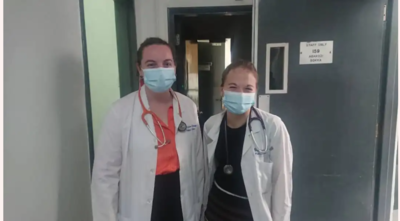 Ready for the day!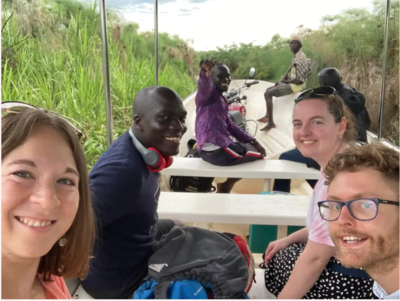 On our way to do research