Visit Florence and Dr Liz (PcERC)
Gather around to meet a couple members of the PcERC team. You'll like to listen to their developments and strategies in a creating a hospital-based palliative care unit.
Meet Dr Elizabeth Namukwaya and senior nurse Florence Nalutaaya, two long-standing members of the Palliative care Education and Research Consortium (PcERC). It was pleasure to speak to them both about the palliative care unit (formed now into a NGO called PcERC) and to see their personalities shine through the camera.
If you have not done so already, consider making a donation to Cairdeas today. The funding raised during this time will go to our partners in Uganda. For PcERC, £25 supports a capacity building session for our volunteers at the hospital palliative care unit, while £40 helps a volunteer at the hospital palliative care unit to support patients and their families for one week. £75 supports a specialist palliative care nurse - and £250 funds a specialist palliative care doctor - at the hospital to provide holistic care for one week. Thank you for your continued generousity!
Bird of the Day

Abdims Stork
As you have watched the video, you may be thinking that some of the Ugandan bird species are quite loud. And you are right! Reading about our storks in the country, such as the Abdims stork that gathers in thousands to migrate, I cannot imagine that kind of noise!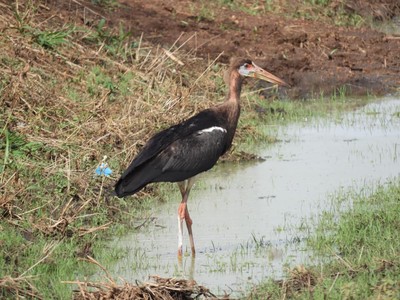 Bird of the Day: Bonus

Yellow-Billed Stork
Our bonus bird today, the Yellow-Billed Stork, wades in the water with a partially open beak as its preferred fishing method. This one pictured though is unsure whether to stay or fly away!