Good eats in the capital city
Let's pause and appreciate the simple pleasures of a lovely breakfast and cup of tea. Enjoy the new tastes of Uganda and learn how to cook some on your own.
Eating is such a universal experience, yet so diverse. If I told you I wanted a 'Rolex,' for instance, would it be a watch or a breakfast item? If you guess breakfast, you are correct! 'Rolex' or 'rolled eggs,' are a favourite Ugandan snack – for breakfast or anytime of the day, I reckon – and street food vendors around Kampala are known for the signature Rolex styles.
Today is your first day in Kampala and it's a must to try at least one or two local food dishes while you're here. Below is a video guide on creating a charcoal-fired, cast-iron pan Rolex, from frying the flatbread (or chapati) to sizzling eggs with all sorts of vegetables. Enjoy!
You can cook your own Ugandan breakfast of a Rolex, and here's a simple guide! As in the video, mix together a simple dough for the chapati with flour, salt, oil (and if desired) chopped onions for flavour. Knead the dough until the oil and salt are completely mixed it, then break apart the dough and mould it into small balls. These balls will then be rolled out, to form the individual chapati flatbread. Once the chapatis are flatten, fry them with cooking oil on both sides until the chapati turns golden brown.
After the chapatis are finished, you can fry an omelette – the 'rolled eggs' part of your Rolex. The most common ingredients in Kampala, they say, are two whisked eggs, with a small amount of diced onion, tomato, green pepper, and sliced cabbage mixed in. You can also use cooking oil to fry your omelette, and then layer the omelette rolled up in the chapati, served while warm and with a side of fresh avocado for best enjoyment.
If you'd like to have the true Ugandan breakfast experience, how about brewing a pot of African spiced tea? This kind of tea is the beverage of choice for many Ugandans, and it's simple to make. Simmer one part water for your tea, adding in black tea leaves, cinnamon sticks, cardamon, and ginger to your preference. Then, add one part milk and heat the tea until just hot, then serve. Don't forget some sugar!
Bird of the Day

African Jacana
The African Jacana are known as "Jesus birds" as they appear to walk on water with their slender long legs and toes.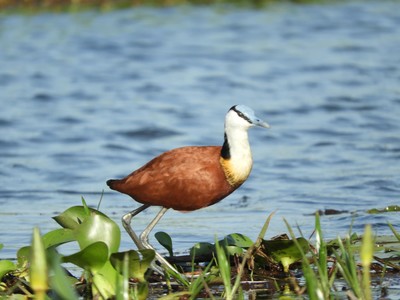 Bird of the Day: Bonus

Long-Toed Lapwing
The Long-Toed Lapwings, pictured in the same Mabamba swamp, are skilfully close at this illusion, hopping along the floating vegetation by the coast.