Crossing the Nile River by ferry
Join us today in crossing the Nile River. Why? To get to the other side!
For years, to cross the Nile River from Adjumani, you would have to hire a small fishing boat. Sometimes when the shallow banks would flood, the fishermen (now conductor) would struggle across the shallow water banks and then row across the river. In the very recent past, there are now two operating ferries crossing the Nile River from Adjumani side: you can either take Sinyanya or Laropi.
But which one to take today? Often we want to use the ferry to reach Obongi town on the other side of the Nile River and so we weigh out the pros and cons. Sinyanya involves less driving (about 1.5 hours) as the ferry reaches Obongi town directly. The roads to Sinyaya are merriam (dirt) but in good condition, with beautiful views of the trees and river valley. There is also great scenery, including small mountains, on the Laropi route as well as more paved roads. But if you want to reach Obongi town from Adjumani town, the distance is great; something close to 3 hours!
Today we'll use the longer, scenic route of Laropi, I suppose. Drive down the winding roads in a private car, and as you turn, you'll find a full riverbank of vehicles, vendors, passer-by's and animals waiting for the ferry to cross. It does not seem quite possible that so many busses and lorries can fit one on ferry: but we do, driving one car on at a time as the ferry gently rocks back and forth.
Next, everyone who can fit is allowed to walk onto the ferry. Rows of benches make up both sides, so you can sit during the crossing. On the water, you may spot floating bunches of plants ("floating islands") and high brushes on the banks of the river.
When the ferry docks to the other side, we're informed of the best things to eat: fish, caught from the Nile River, and mandazi. Fish and mandazi (a fried pastry similar to doughnuts) are not typically eaten together but we do enjoy them both in Adjumani and Obongi areas.
As we go to check out what is being sold today, you can visit this 4 minute video for a 4-ingrediant recipe for these mandazi! Yes, with just flour, sugar, milk and melted butter (and cardamon for flavour, optional), you can cook these mandazi yourself!
Mandazi in hand and fish in the back seat, we are headed off towards Obongi town. There's several sub counties and villages to visit as well, and tomorrow we will meet the Village Health Teams (VHTs) who work with Peace Hospice Adjumani and our palliative care unit in Kampala.
Note on picture to the left: This is a selfie of Liz Nabirye (Clinical Lead, PcERC), Vicky Opia (Peace Hospice) and Dr Mhoira Leng.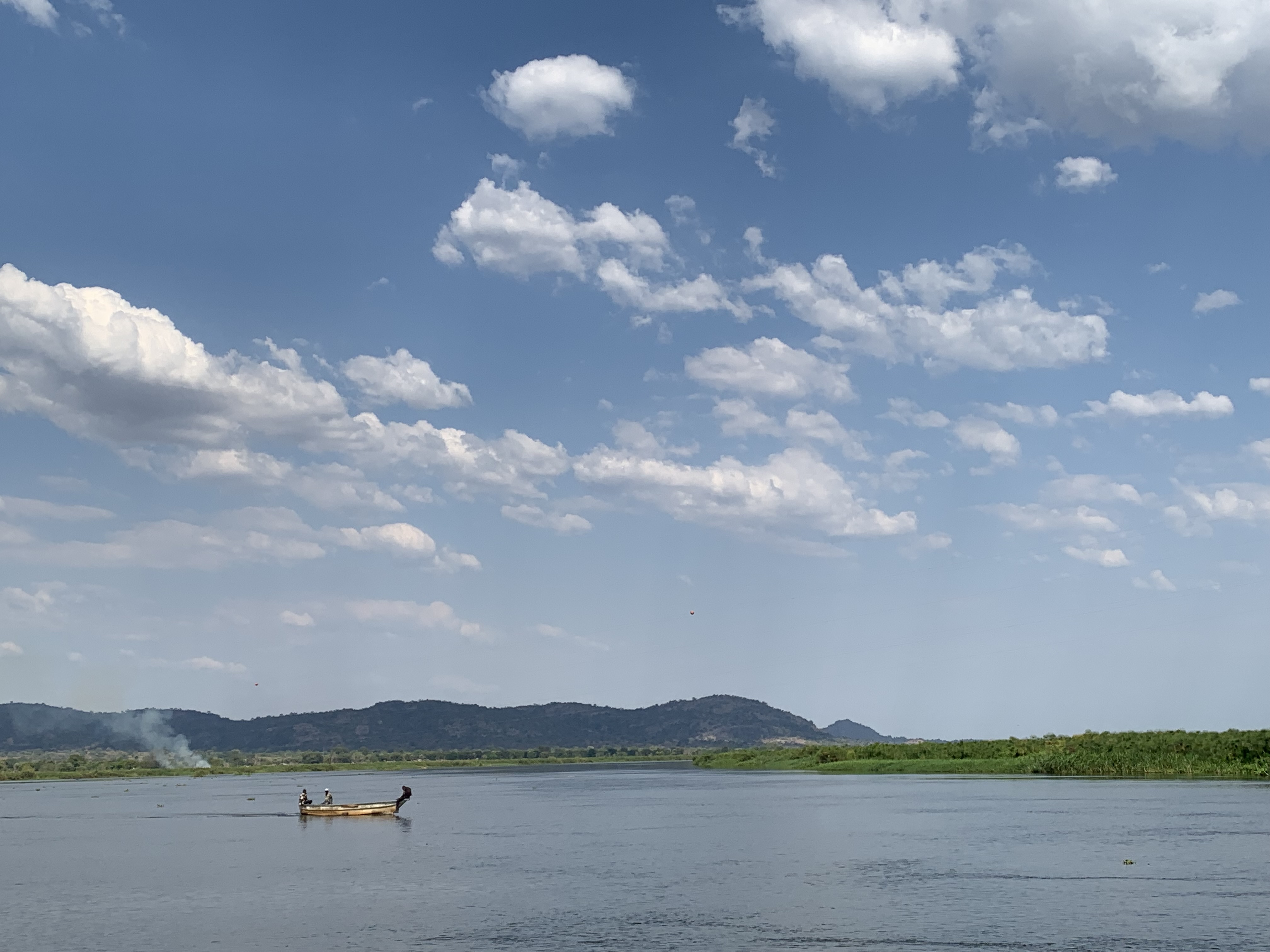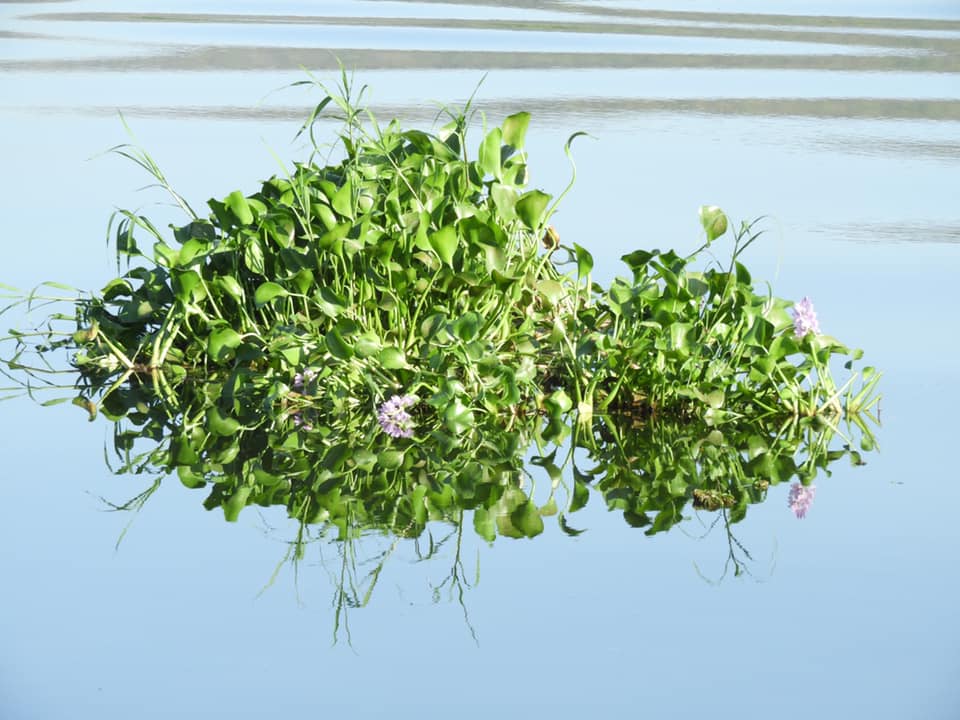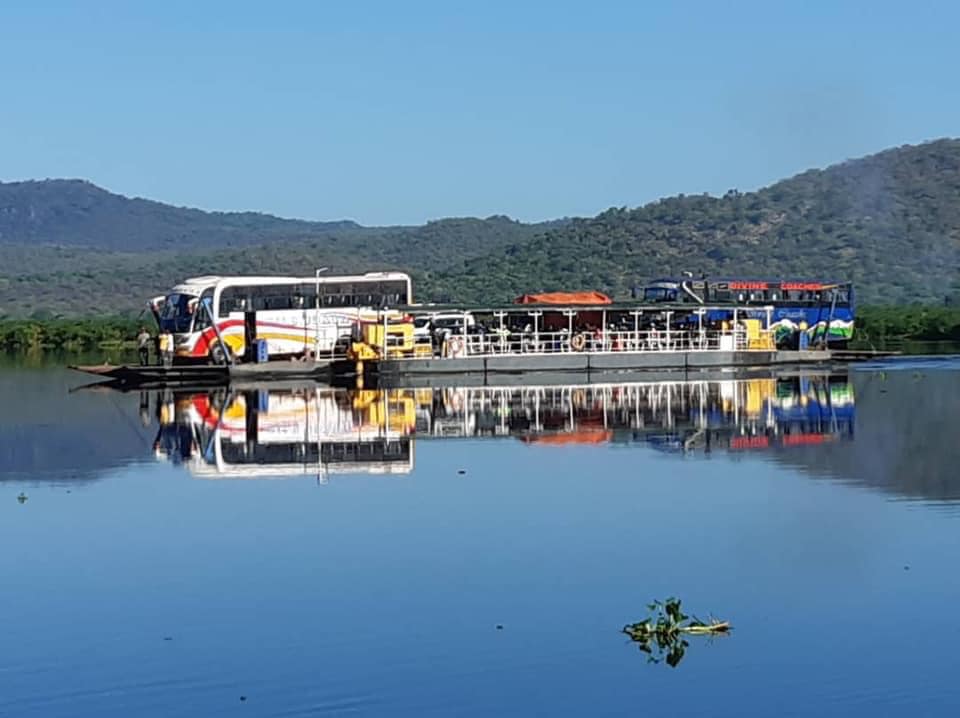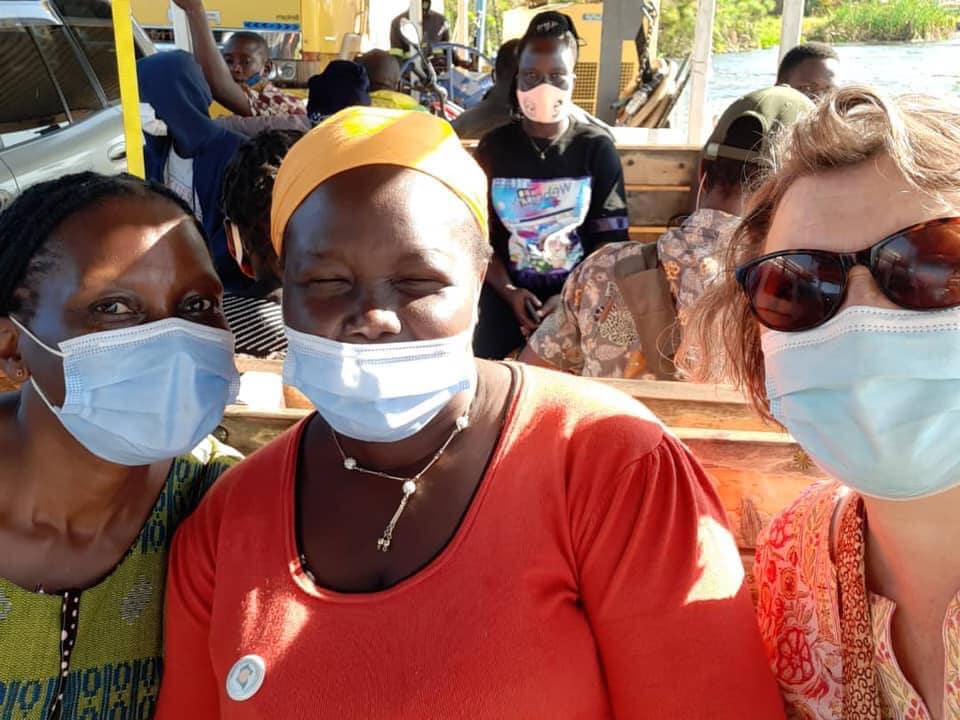 Bird of the Day

Malachite Kingfischer
These colourful small kingfishers are always close to the water source. Once we spotted one with a minnow in its beak, then after he gobbled it down, he began to preen.