Blog: UCI-PCAU JOINT CONFERENCE 2017

Cairdeas


29th September 2017
Many of our Uganda MPCU colleagues were able to particiate in this groundbreaking conference with some supported by Cairdeas scholarships and an opportunity to share an information stall with our partners the Global Health Academy, Edinburgh and the International Children's Palliative Care Network. Mwazi Bautli is one of our longeststanding members of MPCU and has recently completed the nurse leadership fellowship. She was involved in the planning of the conference as well as participating and shares her experiencce in this blog.
This was a joint international conference of cancer and palliative care. This was an exciting undertaking in which a government institution was working with a non-government institution. It was the 7th biennial Palliative Care Association of Uganda (PCAU) conference and Uganda Cancer Institute (UCI) celebrating 50 years of cancer care since its establishment. It was planned for 600 delegates but 500 delegates attended.This was a timely reflection on cancer in Uganda and palliative care together as the burden of cancer is increasing, this is so because most of our patients report late for treatment or are diagnosed in the late stages of their illness making palliative treatment and care the only option in their management in our resource limited setting. The theme of the conference was "United against cancer: Prevention to end of life care". This was a two day meeting held on 24th and 25th August at Resort beach Munyonyo. It was preceded by a preconference symposium on breast cancer care. The first day ended with a grand Gala dinner for UCI @50 where several recognition awards were given to individuals who have contributed to both cancer care and palliative care including our very own Prof Julia.
I was privileged to be a member of the organising committee and more specifically on the scientific committee which comprised of 20 members drawn from UCI and other organisations providing care to patients with life limiting illnesses including MPCU. I was the secretary to this committee and i was responsible for taking record of the proceedings of all the deliberations of the meetings. This was very enriching as it gave me the opportunity to utilise different skills to be able to keep track of all the information. The same committee was not only tasked with reviewing the abstracts but also developing the conference program. This undertaking focused on evidence based practice as well as new innovations in cancer treatment and palliative care. A total of 118 abstracts were received and out of these 50 were accepted for oral presentation and out of these 29 were in cooperated into the conference program. While developing the program, names of prominent health care personalities kept coming up and I was eagerly waiting for the conference to happen so that I could interface with some of them. At the same conference, I was among the presenters on the track of Service provision. During this time I not only represented MPCU in general but also the nurse leadership fellows as the work I presented on the prospective study conducted to evaluate nurse opioid prescribers in Uganda.
While developing the conference program, this was not only exciting but it was also challenging as some members were involved in this assignment for the very first time. A criteria was developed to aide in the selection of the abstracts for both poster and oral presentations. During the conference I was able to interact with high profile persons both locally and internationally. During the 2nd day of the conference I celebrated my 54th birthday in a special way with more than 400 delegates singing for me. This was very exciting and I look forward to many more collaborative conferences.
This particular conference was very beneficial to me as an individual as it emphasised the importance of collaboration and networking. Further everyone has the capacity to significantly contribute to organisation of any activity regardless of their position and role in the healthcare system. This has further improved my confidence and communication skills both written and oral. This has also helped me make new friends. I have come to realise that when we come together much can be achieved through sharing of our expertise.'
All the conference presentations and posters will be available on our resources section.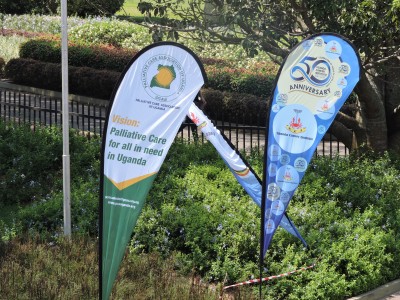 PCAU and UCI joint logos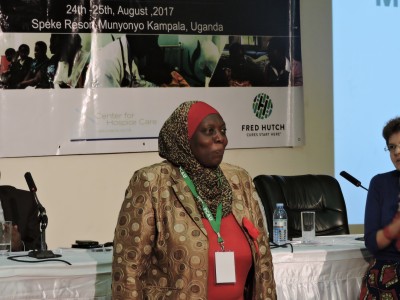 Mwazi Batuli.happy birthday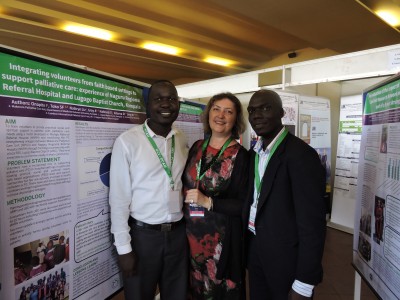 Ivan, Toko and Mhoira with Sanyu team volunteering poster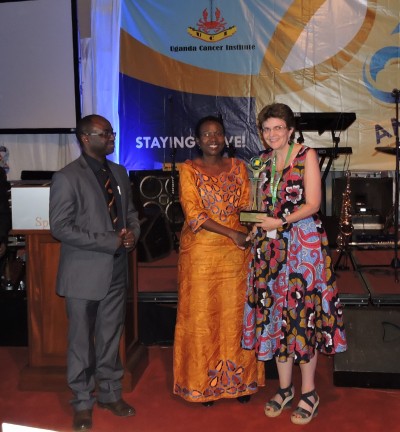 Julia being presented with her award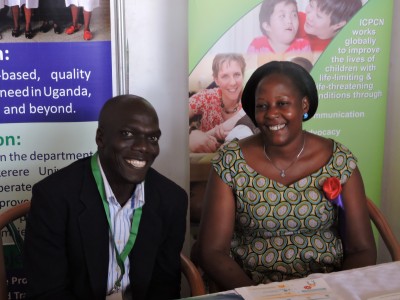 Jennie and Toko managing the stall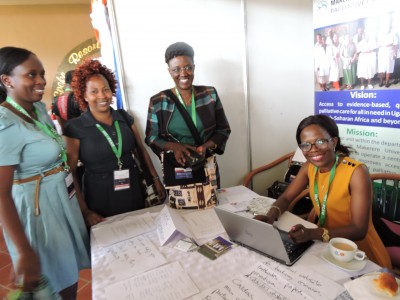 Grace helping students join IAHPC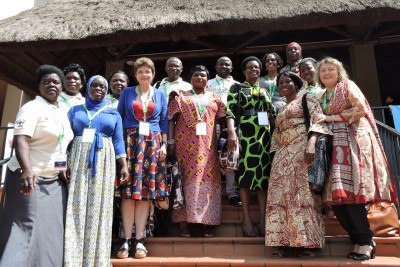 Nurse leaders