Blog: Training Scholarships: Palliative Care as Practical Theology

Cairdeas


16th October 2019
Ivan Onapito received a Cairdeas Scholarship to study a 2-year Masters in Practical Theology at Africa International University. In this blog, Ivan shares the story of how his scholarship came about and how his studies benefitted the work he was carrying out at the Makere Palliative Care Unit. If you would like to donate to support our training scholarships Christmas appeal, follow this link.
At the beginning of 2011, I joined Makerere Palliative Care Unit as Volunteer Coordinator. This was a new role and I was tasked with setting up a team of volunteers to help in providing psychosocial and practical support to patients with life limiting illnesses, together with their families within Mulago Hospital and the Uganda Cancer Institute. This was after a needs assessment had been carried out showing a sizeable percentage of patients didn't have these needs met. It was a daunting task, but due to the support of both internal and external mentors, we were able to get the programme up and running. My role later expanded to providing pastoral care to our patients.

The following year, we began having conversations about increasing my capacity through further studies. This would help in providing better care to our patients, create opportunities for research and also provide credibility for my role and our unit as a multi-disciplinary team.

Cairdeas graciously provided a scholarship for me to go and study a Masters in Practical Theology at Africa International University between 2013-2015. I was able to do a research on exploring the use of narratives as a tool in spiritual care for patients with life limiting illnesses. This research was presented at the Africa Palliative Conference in 2016 and the Global Seminar in Salzburg, Austria in 2016.

One of the benefits of this program was to make me even more aware of the need for capacity building among faith based leaders in areas of palliative care. I was involved in setting up a hospital ministry for my local church which we named 'Sanyu', meaning joy. We have established a good partnership with the community hospital and the volunteer team has grown to meet the spiritual and psychosocial needs of patients within the hospital.

For the past three years I have also been lecturing at Africa Renewal University, a Christian university training leaders and pastors to transform their communities. I teach practical theology courses, one of which is spiritual care for the sick. There is a great need to incorporate palliative care into theology programs so that even the furthest in the communities can have access to this care, have their holistic needs met and live with dignity even if they are dying. Cairdeas built my capacity through this scholarship. It was through this scholarship that I was able to get a teaching position at Africa Renewal University, and use the knowledge and skills acquired to train church leaders how they can be holistic in their care for the sick and vulnerable.

I hope to enroll for a PhD in Practical theology someday.
If you would like to support more scholarships like Ivan's, donate to our 2019 Christmas Appeal by visiting www.cairdeas.org.uk/get-involved/donate and selecting 'training scholarships' from the dropdown list.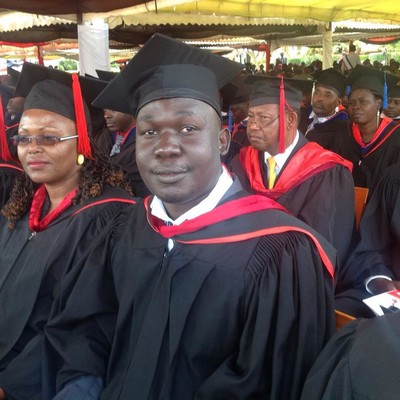 Ivan Onapito graduating from his MA in Practical Theology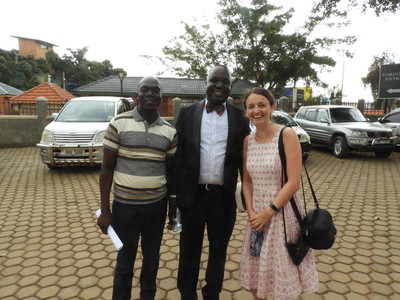 Ivan (middle) with current Cairdeas scholar, Toko (left) and Cairdeas Operations Director, Sarah