Blog: Training Scholarships: Jack's Story

Cairdeas


17th December 2019
Dr Jack Turyahikayo completed a master's degree in palliative care supported by a scholarship from Cairdeas. In this blog, Jack shares how the training impacted his role as a doctor and continues to impact the lives of others through his work. If you would like to donate to support further training scholarships like Jack's, follow this link.
Training as an internal medicine physician, I had high expectations of pursuing palliative care medicine as my career path. This vision still hangs in the balance due to the absence of palliative care positions among public institutions in Uganda. This situation is soon changing, following a commitment by the Ministry of Health to avail consultant positions in teaching public hospitals.
My master's training in Makerere University, College of Health Sciences was quite eventful and academically intense but equipped me with the necessary knowledge, skill and attitude to provide impactful services. I reflect on this experience with gratitude and gladly appreciate Cairdeas for the scholarship provided for the master's program.
My journey post-master's training has been a humbling experience as I continue to improve care for patients with great palliative care need in Uganda and Africa.
I currently work as a part time physician providing palliative care services in the Mulago National Referral hospital and Kiruddu Hospital, an axillary facility currently mandated as a training hospital for both under- and post-graduate students of the College of Health Sciences, Makerere University. I participate in teaching and supervising students rotating in the palliative care service and mentoring future leaders in palliative care pursuing various levels of qualifications at the Institute of Hospice and Palliative Care in Africa (IHPCA). My hope is to improve capacity and build a critical mass of great leaders to place palliative care at higher levels in Africa.
Last year, I conducted a study in collaboration with a resident student from Stanford University. We looked at diagnostic and prognostic awareness among patients with advanced breast cancer and their family members. This study yielded key findings about this important subject which were presented at the APCA conference last month. Thoughtful insights were shared with interested partners and stake holder for future implementation. The APCA conference also provided the opportunity to engage, interact and network with distinguished researchers about future collaborations and partnerships with our palliative care service in Mulago.
As a palliative care service, sustainability has been a big challenge in the last few months. Many services have scaled down or completely halted their services. For sustainability, we expanded our services to include 2 private facilities (Nakasero hospital and Aghakan clinic). I run a weekly outpatient clinic at Nakasero hospital but also attend to admitted patients that have palliative care needs referred to the clinic. My colleague, Dr Namukwaya Elizabeth provides similar services at Aghakan clinic. Our expectation is that we can generate some resources that can help sustain the service for the many who cannot afford.
Huge challenges of sustainability still exist for several palliative care services in Uganda and Mulago/Makerere Palliative Care Unit is not exempt. We work very hard to provide palliative care to those in need and sincerely hope for potential collaborators, partners and donors to support this much needed care to several patients not only in Uganda but also Africa at large.
If you would like to support more scholarships like Jack's, donate to our 2019 Christmas Appeal by visiting www.cairdeas.org.uk/get-involved/donate and selecting 'training scholarships' from the dropdown list.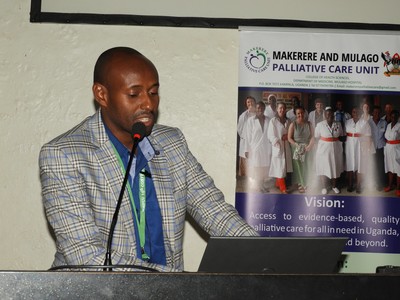 Dr Jack presenting research at the Mulago and Makerere Palliative Care Unit 10th anniversary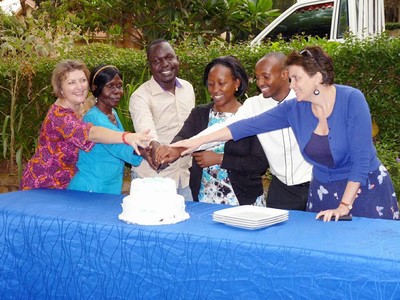 Jack with colleagues and friends celebrating their graduation