Blog: Toko Friday – How Cairdeas is helping me follow my true vocation

Cairdeas


15th October 2018
At Cairdeas we are committed to offering support for staff development through scholarships that have a direct impact on patient care. These scholarships make a huge difference to the community and we welcome any donations to allow this work to continue and expand.
Toko Friday is part way through his training via one such scholarship and he describes the difference it is making to his life and the lives of others.
"My name is Toko Friday and, thanks to Cairdeas, I have started a degree in social work and social administration in Kampala. Once qualified, I will continue to apply to my work in the field of palliative care. Already I am learning so much, and enhancing my knowledge and skills to empower me to perform better in my role asa volunteer coordinator. This training, alongside my daily work, is showing much fruit. I am learning how to research and write volunteer policies and procedures, including risk assessments; this includes describing appropriate volunteering opportunities and writing up roles based on the needs of the organisation. I am learning how to manage budgets and helping with some fundraising to sustain our project. In any one day I can be reading up on legislation and policies related to volunteering or writing monitoring and evaluation reports for funders. There is variety in the course, for sure!"
"The training supports my ongoing role in the Sanyu Ministry at Lugogo Baptist Church where I work closely with the staff from Makerere & Mulago Palliative Care Unit and the Elders board. Together, we match the skills of volunteers with the hospital's needs for assistance. I arrange for volunteer orientation and training and I schedule all volunteer activity. I keep records on how many volunteers we have, when they volunteer and for how long. For me, the main gift in the work I do is the pastoral care and support to I am able to offer patients."
"A few weeks ago a young woman whose child was very ill and then died, came to thank the church for all the support she was given during this very difficult time. She said, 'I thank God for this team'. Another patient told us, 'I want to thank God for bringing you into my life, I feel loved and cared for.'"
"Overall, the most important thing for me is being able to create a difference in the lives of patients and families through listening to their worries and concerns and being able to bring hope and joy by creating a smile on their faces amidst pain and suffering. This work is indeed, a blessing."
If you are able to help Toko, and others like him, to build their capacity in delivering quality palliative care in Uganda, please consider making a donation to the work of Cairdeas. Click here to find details of how to donate to specific appeals or to set up a one-off or regular donation to the work of Cairdeas.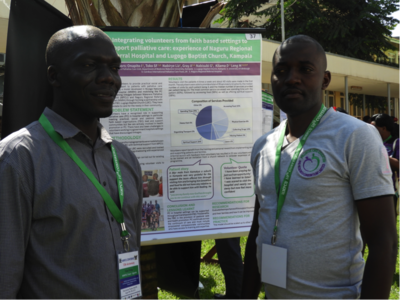 Toko and the Sanyu team share their work at the Cairdeas/MMPCU 10th anniversary conference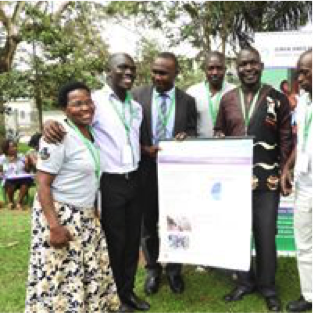 Sanyu team with Pastor Dennis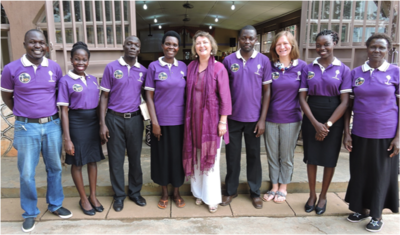 Sanyo Team at Lugogo Baptist Church