Blog: The Religions of the World Charter for Children's Palliative Care; a ground breaking initiative.

Cairdeas


11th March 2017
A few weeks ago Dr Elizabeth Swain, Trustee of Cairdeas and experienced palliative care and primary care clinician, was invited to attend an event at the Scottish Parliament and lend her signature to an important document highlighting the need for palliative care for children. She shares the experience and encourages us to sign up!
'There are a few hoops to jump before one can host an event at the Scottish parliament and one of them is to have the sponsorship of an MSP. EMMS (Edinburgh Medical Missions Society) had just that, with Andy Wightman MSP for Lothian giving his support. He gave this maybe for two main reasons –firstly EMMS is a very well respected Edinburgh based Christian organisation and this is their 175th anniversary year and secondly they are promoting the The Religions Of The World Charter For Children's Palliative Care which has been drawn up by the Maruzza Foundation, another well respected organisation based in Rome, which has the backing of Pope Francis.
So- hey presto, here we were in the Scottish Parliament on the evening of 8th February. I sat between the Moderator of the Church of Scotland and the Leader of the Mothers' Union and just in front was a member of the Shia Muslim community. Silvia Lefebvre D'Ovidio, a Trustee of the Maruzza Foundation, was there is person to present the charter. This is a universal declaration by all faiths that children's palliative care provides the best solutions for all children and young people affected by life-threatening and life-limiting disease and, further, that access to palliative care services should be a right.
The Religions of the World Charter for Children's Palliative Care is a ground breaking initiative. Its purpose is to dismantle the barriers which prevent over 20 million children worldwide affected by serious life-limiting illnesses from receiving care that is appropriate to their age and disease. Religions have global reach and, due to their broadly-recognized moral authority, can provide fundamental support for children's palliative care provisions by:
affirming that all children with serious illness should have guaranteed access to palliative care
confirming that alleviating pain is a moral and religious obligation
recommending to political leaders and policy makers that children's palliative care should be integrated into every national healthcare system
giving strength to the movement for the global availability of children's palliative care through the involvement and endorsements of all religious, faith, and community leaders.
The Charter was first drafted at the Vatican by representatives of the main world's religions, leading paediatric palliative care specialists, human rights experts and young patients and their families. Scotland, with its global reputation as a leader in palliative care advocacy, now has the opportunity to get behind this Charter and speak up for the 20 million children across the world affected by life- limiting illness. It is imperative that all these children and their families are guaranteed the right to access appropriate care that encompasses emotional and spiritual support.
After several moving and helpful presentations the delegates signed the charter in hard copy but also on line and you too can do this. Follow this link http://religionsworldcharter.maruzza.org'
Thanks Elizabeth for representing us and to EMMS for organising this important event.
If you want to read more about EMMS work please look at their website; you might also have seen tweiir ffanstiics films form Nepal in STV. Ihttp://www.emms.org/about-emms/the-news/stv-in-nepal/ ITo find out more about palliative care needs in children worlwide please look at the International Children's Palliative Care Network website http://www.icpcn.org/ which is now chaired by Prof Julia Downing and doing such a great job internationally.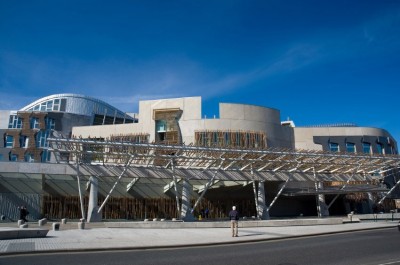 Scottish parliament building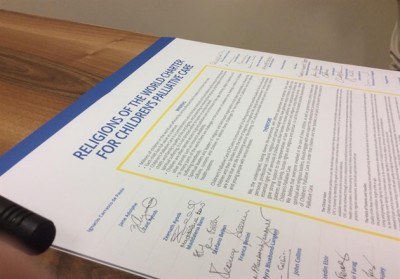 Charter and original signatures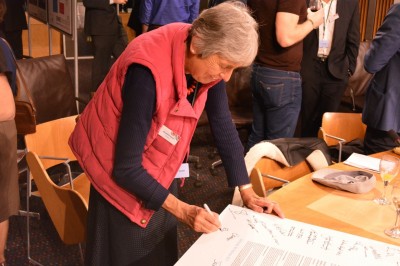 Dr Elizabeth Swain signing on behalf of CairdeasIPCT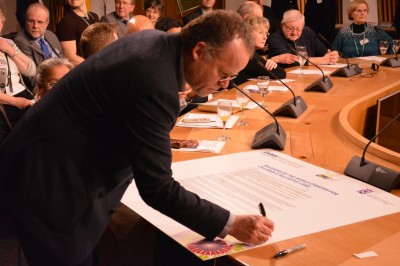 Andy Wightman, MSP, signs charter