Blog: Sharing the vision

John Howlett


28th September 2016
Greetings to all our supporters and friends and to those who share with us the vision for a world where palliative care is available to all. Thanks to all who have helped create this great new website and if you have not done so yet please become a FB and Twitter follower #CairdeasIPCT. We will also be putting on twice monthly blog posts with many of our team and partners contributing so please read, comment and think about contributing.
As partnerships are at the core of Cairdeas work we want to start with the words of some of the team at the Makerere and Mulago Palliative Care Unit (MPCU) in Kampala, Uganda who are our biggest partner. We shared these statements as part of our annual awareness month #cairdeaspalliative care #cairdeaspurpleparty but this was pre-website! This team has grown and developed as individuals and in professional achievements in the last 8 years and we are now starting a process of developing our next strategic plan. Huge sacrifices, significant commitment, love and friendship for each other, our students and mentees and in particular the patients and families we serve. Many thanks to all.
Florence who has been a nurse with the team for 5 years and a palliative care nurse for more than 15 years. She was one of the first nurse prescribers in Uganda (and therefore in the world!) and is involved in mentoring both nationally and internationally. The photograph with Dr Gursaran Purewal shows her love of colour with an outfit purchased during her visit to India to present at the international conference in Pune, 2016.
"Palliative care is very important. We found that around 80% of medical patients in Mulago need help from palliative care. We are few in palliative care and this is why we must teach and integrate others so that all can care, rather than always waiting for our team first to see the patients. They can do something for the patient first. We want everyone to speak the same language so that we can give the best care to the patients, to as many patients as possible, across the country.
For me being part of the MPCU team is very important and I enjoy it. But it can be hard. We can be short of funds.
I am also happy to mentor others. It takes me time to understand something but when I do I can teach it and when I teach others I feel happy. I want to inspire others. We are few in palliative care so we need to spread the knowledge. We must empower them."
Our volunteers have so many stories to tell. Here is Toko Friday Santiago sharing from his heart. (photo with Ivan and our Cairdeas Trustee Jacqui MacIntosh)
"It's been such a wonderful opportunity for me to volunteer with the palliative care unit for the past five years. I have gained numerous skills and experiences that I have not only used for the benefit of the patients here but also for my family members and friends. This gives me the desire to be part of the lives of the patients. The team has been so supportive and I have learnt communication skills, leadership skills and above all teamwork, which I have learnt is key in all aspects. Palliative care is so important, it improves the quality of life of the patients in offering physical, psychosocial and spiritual support which makes them feel valued and cared for."
Esther received one week's training back in 2012 and worked as a link nurse on the surgical ward. This involves giving basic palliative care to the ward patients and referring the more complex ones to the palliative care team. She joined the team full time since April and has become an integral member of the team.
"Before I had the training patients who were dying could be neglected as the staff thought they could do nothing for them. But since the teaching I realised there is much I cando for these patients. I can allow them to die in peace and though they were suffering they had a smile on their face because of the care they received.
Since working with the team I have learned much more. Before on the ward most of the times I would have worked alone but now I work as a team who have much knowledge that I can learn. I learn how to council them, how to care for all patients with life-limiting illness.
It has changed me. It has changed my attitude."
We have been so glad to offer scholarships to key team members and huge congratulations to Dr Liz Namukwaya (PhD) Dr Jack Turyahikaiyo (MMed) and lastly, Ivan Onapito, our pastoral and social coordinator. (see photo of the team party!) He has now graduated with his masters in Practical Theology from the Africa International University, Nairobi.
"The past three years have been a priceless experience for me. The lessons learnt have opened my eyes and mind to compassionate care and how important it is to patients and families faced with life-limiting illnesses.
I want to thank you all the Cairdeas supporters who have carried me throughout this journey. Thank you for all you do to build capacity and improve the quality of life for those who are suffering."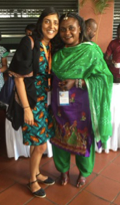 Dr Gursaran Purewal and Florence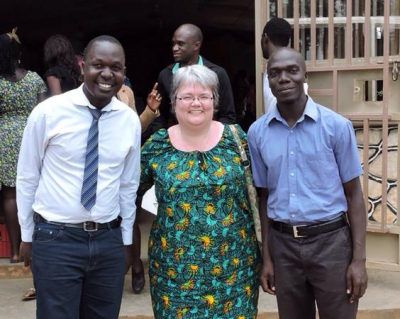 Photo with Ivan and our Cairdeas Trustee Jacqui MacIntosh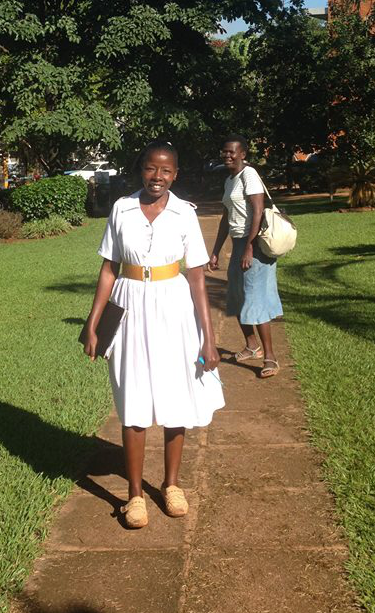 Ester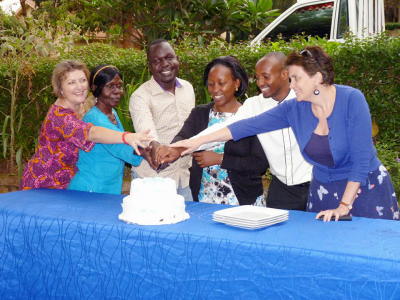 Graduation Celebrations