Blog: Palliative care trainings in Adjumani and Obongi districts, 2021-2022

Cairdeas


21st April 2022
Carried out for the project Transform. Empowering communities and health systems to address health related suffering in host and humanitarian settings through capacity building and integration funded by UKAid.
The project provides capacity among community health workers and family care givers in South Sudanese refuge settlements and host communities in rural Uganda through training 472 health care providers to be able to improve care to 16,800 patients and families through improved identification of chronic disease and palliative care needs, effective referral processes within the health system, community mobilisation and empowerment.
It is a 24 months project running from the 1st February 2021-31st January 2023, and to-date we have completed our training activities.
Faculty:
We have a team of trainers that includes faculty from Cairdeas IPCT, Palliative Care Education and Research Consortium (PcERC) and Peace Hospice Adjumani (PEACHOA) who have developed and prepared materials for all the trainings courses.
As of today, we have trained;
• 52 Heath Care workers: From both Adjumani and Obongi districts in basic palliative care skills so they are able to improve their competencies in palliative care skills and provision of generalist palliative care. The cadres included; doctors, clinical officers, pharmacy technicians, nurses from different health facilities, who will then be able to offer PC to those that need it.
• 301 Family Care Givers: From both Adjumani and Obongi, who will be able to provide support and care to those who need Palliative Care (PC) in the community, through basic nursing care, communication and self-care of the caregivers.
• 100 Village Health Teams trained and given skills to be able to identify persons with a chronic illness and give appropriate referrals for care and treatment.
• 22 VHTs trained as expert mentors, to be able to support and mentor other VHTs, these have been given each a mobile phone and additional training in photovoice; a methodology of data collection that we will use to collect data through lived experiences of these VHTs.
• 20 HCWs trained as expert mentors to be able to mentor others as well as support PC implementation in their facilities.
Some of the challenges that we have faced have included:
• Delays due to COVID-19 and travel restrictions from the government, team members affected as well as at sites where training was to be done.
• Flooding of the Nile delayed activities for Obongi as travel to this area was not possible.
• Increased costs of activities due to the COVID-19 pandemic
We have however had some lessons along the way which will help us implement better programs in future.
• Importance of flexibility and planning for unexpected events
• Importance of working with implementers who are familiar with the environment has been helpful.
• Involving local leadership (opinion leaders, health and political leaders) as it creates ownership and support for the programmes amongst the community.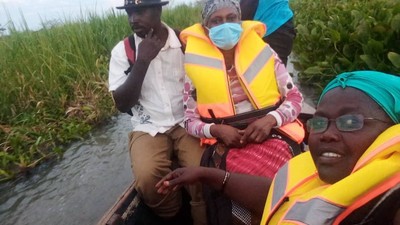 The training team crossing over from Adjumani to Obongi after the Nile flooded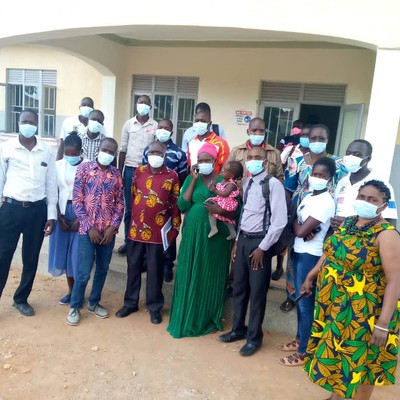 Trainers and Participants and the Health Care Workers training in Obongi district