Blog: Palliative Care Training at Gaza through Cairdeas Partners, by Elizabeth Swain

Cairdeas


26th November 2021
Imagine you are Maram. You are a 20-year-old young lady and have just started your clinical training at the Islamic University in Gaza. You live with your parents and have been relying on your mobile phone for taking part in training sessions.
___________________________________________________________________________________________________________________
Day 1
Will the internet be good enough for me to hear what is said?
Will I understand the English of the teachers from outside Gaza and what if I have to answer in English? Someone told me that the teachers are from about 4 different countries and of course we have our own teacher Dr Khamis – we all like him a lot.
…and anyway - what is this subject "palliative care" we are to be taught – I think it is something to do with dying and I have seen and heard so much of this while we had the bombing and do not really want to be reminded of it.
Day 2
Well, the teachers form outside Gaza are a bit strange but seem kind and most of them are speaking slowly enough so amazingly I can understand most of what they say.
We discussed a business man who has cancer and whose son is going to go away to study – this made my classmate Doaa very sad as she has an uncle that this happened to – he did not want his son to miss the opportunity to study but he never saw him again as the authorities would not allow him to enter Gaza when he was dying. She phoned me after we finished and we both cried.
Day 3
We have had a session about controlling pain. This is all new to me as we have not been to the hospital yet. However, I did understand a lot of what the Dr said as my grandmother has bad pains sometimes and only takes her painkillers if the pain is very, very bad. I learnt through the session I can now suggest that she takes it regularly. I feel sure now that this will help her. I will try and explain about taking tablets and not injection.
At first when I was asked to play the patient in a little play we did, I was not keen, but I actually enjoyed it! Although it was a sad story, I realized that knowing what was wrong with me – even if it is something bad – was in the end a good thing. Knowing meant that I could talk to my family about it. I like it when people tell me the truth.
Day 4
I am beginning to understand more and am really pleased I can do this course. For me it is more interesting than sitting in a classroom and having a professor talk at us for an hour with no questions. And I really like discussing things. Some of the other girls in my group cannot talk to the teachers because their internet is not strong enough. I felt bad for them because I know they want to be able to ask questions. Ola gave me a question to ask and the doctor who did our group session tried really hard to answer. It was about was how our religion says that to suffer pain makes us better Muslims. It seemed to me it was not really a question that Ola wanted to know the answer to.
Day 5
We all thought we would have an exam today but no we don't! I think I would do okay because I have learned a lot and it is not so difficult.
The session today was about caring for ourselves. It seems a strange thing for us to study as we are going to be doctors; we are to look after other people. But I could see towards the end of the session that if I get something called burn-out then I cannot help other people. Each of the teachers gave us an idea and this was interesting – they seem to be just like us.
They said they would like to come and visit us next spring so we can see patients with them. I really, really hope they come. We talked about all sorts of things with them and I want them to try Gaza food.
___________________________________________________________________________________________________________________
Thank you Maram – it was good to meet you and your class. We, alongside Dr Khamis Elessi the IUG lead for palliative care, were all very impressed by your hard work and willingness to engage with us although we know some of you really struggled with the internet connections. We, too, hope to be able to come in April and meet some of you in the hospital wards and would try to find ways of catching up with the clinical case teaching.
The feedback that we had from you all encouraged us and here are some samples:
"I learnt how to communicate well with patients and their relatives and the difference between empathy and sympathy. and another important thing is how to relieve the pressure inside me."
"I have learned about thinking of the patient's situation from all aspects, and how we can practice ourself more to understand their psychological, social and spiritual pain."
"I have learned to care and treat the patient as a whole person and not only physically because some patients need to treat the spiritual side for example more than physical side."
"I also learned that we may reach the situation that there is no point in any medical intervention for the patient, but there is an important aspect that we can still do, which is palliative medicine."
"I learned to treat patients as humans not as a problem to solve, and that I am as a doctor have feelings that I need to respect and accept."
"Remember that patients are human, and do not forget that yourself are human too."
Some one took a screen shot of the feedback session – we had asked the question about what values you saw being demonstrated in Palliative Care.
I do hope that this gives you a flavour of our Gaza teaching. This is the second year we have had to rely on online teaching and you will have seen some of the challenges for all involved. We taught students just beginning their clinical studies – a good time we felt to expose them to the concepts of whole person medicine and palliative care.
Each day we started with a mini lecture for half of the class (we divided the year group of about 150 students into boys and girls as is customary in the Islamic context). The group then went into breakout rooms in groups of about 12 for case discussions around 6 different patient scenarios.
On our next visit in, hopefully in April, we will focus on building the clinical services and linkages and exploring ways to support a new comprehensive cancer centre alongside our partnership with IUG.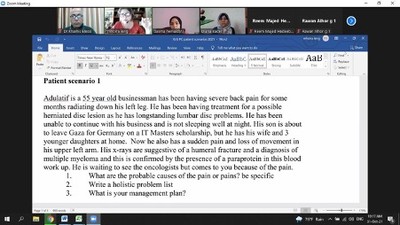 Session in progress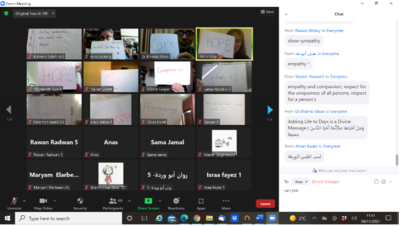 Responses to what palliative means to the students