Blog: Medicine for Investors

Cairdeas


11th December 2016
It was a pleasure to have Jared and Bex Cordner working with us through Cairdeas in MPCU, Kampala. They contributed with expertise, skill but also willingness to learn, building relationship and embracing the challenges and joys of life in Uganda. Jared gives us a very interesting reflection from his business perpsective. Cairdeas can find it hard to share with you the need to build capacity rather then fundraise for more concrete projects so thanks to Jared for this very helpful view on our partnership with MPCU but also the fundamental principle by which Cairdeas seeks to work globally to increase acccess to palliative care for all.
'I'm not a medic. In fact that statement goes nowhere near far enough to explain my obscene lack of knowledge in relation to anything medical, despite being married to a Doctor (Bex). I come from a business background and so when Bex and I decided to take some time off from our normal jobs to travel to Uganda to work with Cairdeas I viewed the whole thing through different lens than she did.
Firstly, when I read that Cairdeas seeks to 'promote and facilitate the provision of high quality palliative care in the developing world where such care is limited', my finance brain summarised this as 'making investments, not creating expenditure'. Working in an investment bank at the time I felt comfortable that I understood that world. Now, having almost finished our 4 months here in Kampala I find myself reflecting on the investment Cairdeas is making in Palliative Care in Uganda. I'll summarise my thoughts using some standard investment appraisal techniques.
Capital Growth or Dividends
A central principal behind investing is that in repayment for your resources you seek either a dividend, or a growth in value. The investment that Cairdeas is making is focused on seeing growth, largely through capacity building within the palliative care teams across Uganda. I've seen that isn't an easy process as it requires time, money, training and energy. All of these need to be utilised in developing appropriate skills in individuals, all of whom are different, as well as impacting practices. I believe that if we are to see true development in Uganda, then this is the approach which will deliver that.
Exit Strategy
Another key area that must be explored before you buy into any investment is that of the exit strategy, it is important to be able to walk away when the time is right. The capacity building approach which Cairdeas has adopted lends itself to a clear exit strategy as it increases self-sufficiency of the palliative care units across Uganda. It has been fascinating to observe how Mhoira has maximised the impact of Cairdeas, without fostering dependency. Personally, it has been a blessing to be able to offer whatever help I can, but my goal throughout was to ensure that I would never be needed again.
Ownership
Finally, there is a level of ownership and responsibility attached to investing. An investor should ask themselves, "Am I proud to be supporting these activities"? The work which Cairdeas is investing in is something to be exceptionally proud of. Cairdeas helps meets the deepest physical, spiritual and psychosocial needs of vulnerable patients in Uganda through its development of palliative care staff, volunteers and programmes. Basic human needs are being met in a way which they may not have been 8 years ago, and Cairdeas (through their local partnership with MPCU) are largely responsible for that.
So there you have it. In the past 4 months of being on the ground in Uganda I've witnessed Cairdeas make wise investments and ensure growth without dependency, all towards making palliative care accessible by all.'
Jared helped us put together our Christmas appeal so not too late to invest; it can be a practical breeding pig or enaging with our capacity building through scholarships or supporting our pastoral care and social support through our volunteer programme. Please use our donate button on the websoite and then drop us an email to say what you gave so we can keep you updated and send a photo! Lastly, do you have skills to contribute to Cairdeas vision either in the UK or in Uganda or one of the other places we work. Please get in touch and keep up with our news through this website and facebook!!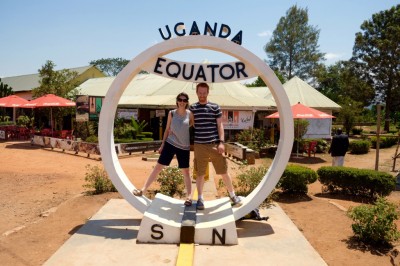 First time for Jared in the southern hemisphere
Thanksgiving at church; giving pregnant rabbits who are now multiplying!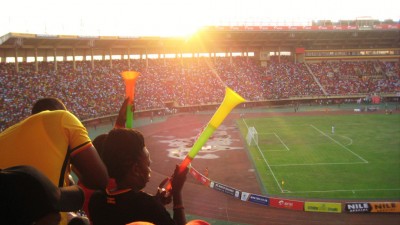 Historic events as the Cranes get through to the Africa cup first time in ?60years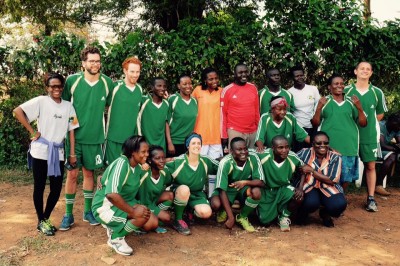 Bex and Jared as part of the MPCU football team at the PCAU tournament to celebrate World Hospice and Palliative Care Day
Enjoying the beauty and diversity of Uganda; the 'Pearl of Africa'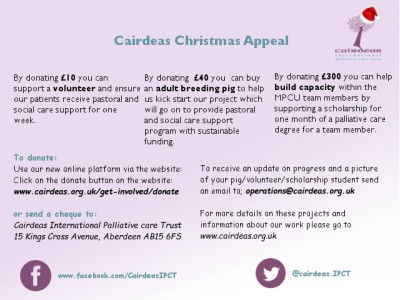 Still time to contribute; click on our donate button