Blog: "I'm not a medic, but I can help" - Thoughts on my volunteering experience

John Howlett


16th October 2016
Over the summer I took the unusual decision with my girlfriend to travel to Uganda and volunteer. This was something Lucy had thought about for years but was new to me. I assumed IT skills weren't in the skillset of a volunteer in Africa, Lucy's medical training being more of the stereotypical CV. Nevertheless I was encouraged that IT skills would be of use to the Palliative care charity Cairdeas we were going to work with.
I spoke with my managers and received support to apply for a leave of absence and to enjoy my time in Uganda. We began saving and paying for inoculations in preparation for the 7 weeks in Africa.
We arrived in July and our first impressions were getting picked up at the airport and the chaotic drive to Kampala, I had never seen, and probably won't see, traffic as bad as Kampala's traffic. Any odd ideas like "giving way" or "queuing" are clearly not on the driving test here. We'd soon get used to it though and were driving Ugandan style to work most mornings. Cairdeas aims to build a Palliative Care capability in developing countries, this was a great thing to be part of as I felt the team was making a lasting difference rather than a stop gap solution.
I was mainly organising the relaunch of this website which had been down for a relaunch for over a year. I spent much of my time in the office at the hospital working on the website or helping the nurses with their smartphones or PowerPoint, but on my last day in the office asked one of the volunteer coordinators Ivan if I could join him on a walk around one of the cancer wards. In Uganda most personal care for patients in hospital is actually performed by a friend or family member of the patient, 24/7. Most of the attendants sleep on the floor of the ward or under the patient's bed. Nurses work across large wards and spend much of their time assessing symptoms and providing medication. The volunteers are people from the community who want to help patients who may not have someone to attend for them or need help getting prescriptions. These volunteers were the most inspiring thing I saw whilst I was there, they did so much good by listening and comforting the patients. It was truly humbling to see their dedication.
The health system in Uganda is limited by the standards I was used too, there were some free drugs available to patients but only a limited selection and a lot of pressure is put on the patient and family to come up with large sums of money for treatments. These commitments to treatments could often bankrupt families when terminal or long term illnesses were diagnosed. I found this so sad, especially when put into context by the corruption stories we would hear from the locals. The corruption in Uganda has got to such a stage that aid is delivered direct to not for profit organisations rather than to the government.
Looking back on it all I feel the best investment Lucy and I made and probably will ever make was the time we took to go to Uganda and to work with the talented and dedicated people of MPCU. We spent time working and teaching some brilliant people who will continue doing brilliant work whilst we are back at work in the UK. We saw lots of what Uganda had to offer, including a safari in Murchison Falls National Park and a trip white water rafting down the Nile. I would encourage anyone to take the opportunity to invest your time in something new, challenging and truly worthwhile.
As I type this back at my desk after our trip, getting used to the 9 to 5 and loving my bike ride to work again, I know that I've learned and experienced so much that will benefit me, and hopefully left some more IT literate nurses in Kampala! I'd like to thank the amazing MPCU team for being so welcoming. For anyone interested in knowing more about the work Cairdeas does, please look around the site and contact us.
Cheers, John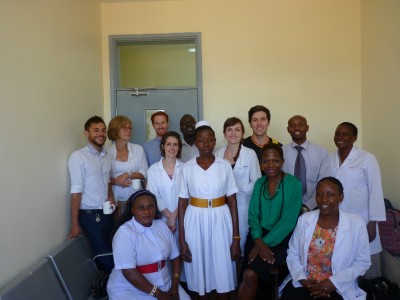 The Team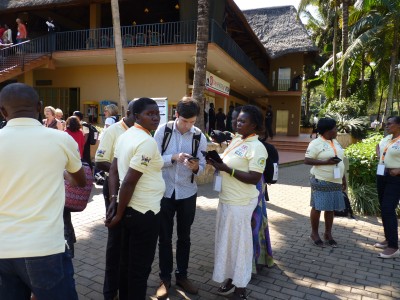 "Can you help me with Skype?"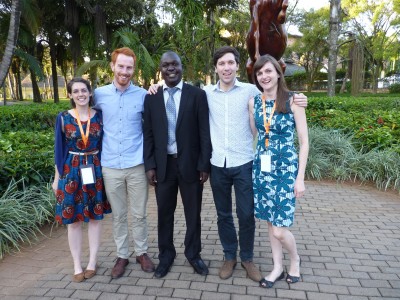 Bex, Jared, Ivan, Me and Lucy at APCA Conference 2016