Blog: Happy as pigs in muck

Cairdeas


6th September 2017
It was great to have Dan (our operations director) and Felicity Knights and also Christine Whitehouse from Uganda Cancer Trust visit us in Uganda. They brought such a sense of energy and encouragement and helped to give us a real impetus for our Cairdeas work. John Saxton, a pre-med student from the USA was also visiting us and is preparing a video we can share soon.
'My name is Felicity Knights and I am married to Dan (current Operations Director). Like Dan, I'm also a junior doctor, and together we've been friends of Cairdeas for more than five years and enjoyed sharing the journey. However, in July I had my first chance to actually meet the MPCU team and I loved it!
For me, one of the most exciting new developments is the new 'Sanyu' team that is supporting MPCU – Sanyu means joy. This team are newly trained volunteers from Kampala's Lugogo Baptist Church, who are going to act as a community-based support team for palliative patients as they are discharged. MPCU's volunteers are already an essential part of the team: giving practical, psychosocial, spiritual and practical support to patients and their families in Mulago, Kiruddu and Kawempe hospitals. The Sanyu team will help to extend care and pastoral and social support for patients holistically in their home setting.
Joy with the pigs....It was a highlight of the trip to visit the new pig farm project which has been initiated to try to provide a sustainable source of funds for the Sanyu team and the wider volunteer team. The project aims to breed and sell pigs, and all of the profits will go towards supporting the volunteer pprogramem as well as build capacity for incoem generation. I'm a trustee of another charity working in Uganda, Afrinspire http://www.afrinspire.org.uk/ who have offered some advice on this piggery, and in this role I have had the opportunity to visit a number of different agricultural and farming projects. So one of the things that really struck me about this particular farm was the dedication of the Farm's caretaker (Senga), and MPCU volunteer, Toko, who has been overseeing the implementation of the project. Both were clearly determined to make the piggery a success, and believed strongly in the value of the project to support the Sanyu team in the work they are doing for MPCU. Senga shared with us that she saw caring for the pigs as God's work, and that her faith was the thing that was driving all her actions.
Piggeries are actually one of the most rapidly-growing sectors of farming in Uganda at the moment, but setting one up is not without its trials! Unfortunately, the team have found themselves confronted with a number of challenges common to this sort of project: difficulties in finding land to farm, fluctuating prices of feed and breeding stock (in part due to Ugandan drought), and things just taking a lot longer to get started than originally hoped!

But it was wonderful to see where they have got to, and to discuss plans to take things to the next stage. One of the two piggery buildings was fully constructed, and we were able to see the four pigs inside: one boar and three sows, two of whom are currently pregnant, so it won't be long till the first piglets come along! The next stages are likely to include completing the second building, purchasing some more sows, and starting growing food on the nearby land to help protect the project against the fluctuating food costs.

So it was a joy to learn about the Sanyu team and their piggery, and I'm very much looking forward to re-visiting and seeing the next stages come into fruition!'
Thanks Toko, Ivan, Grace and the whole volunteer and pig project team. We are doing this to enable us to care for more people in need and you already contribute so much.
Thanks also to UCT http://www.ugandacancer.org.uk/ who have been our main funder for this project. In particular Christine Whitehouse, has been such an amazing support for MPCU and for our Pig project in particular. Her business acumen has been invaluable with ongoing committment as well as the encouragment of visits from Micheal and Liz Minton who are trustees of UCT. Thanks...and looking forward to continue to being partners!!
You can get involved in supporting this project too by donating online through the Cairdeas website www.cairdeas.org.uk. Watch up for more updates and we will be offereing a chance to sponsor / buy your own pig soon. Some are already named...spot Catriona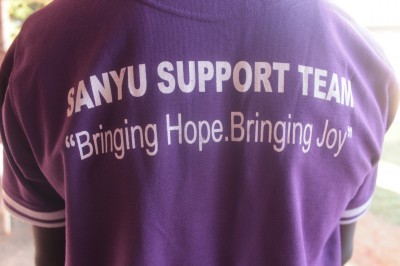 Sanyu team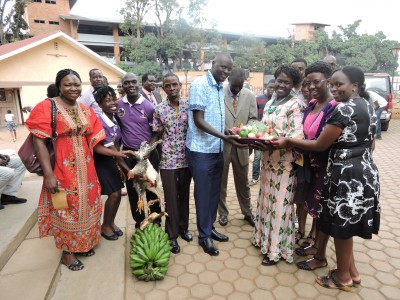 International colleagues joining Sanyu team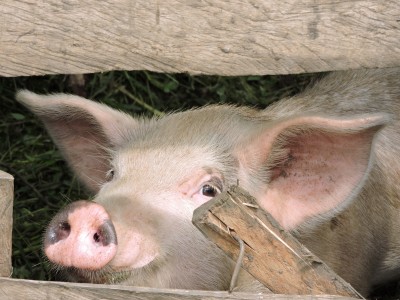 Growing, happy pigs ?Catriona
Site visit
Wonderful, faithful Senga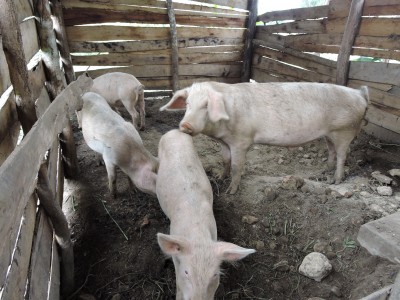 4 and counting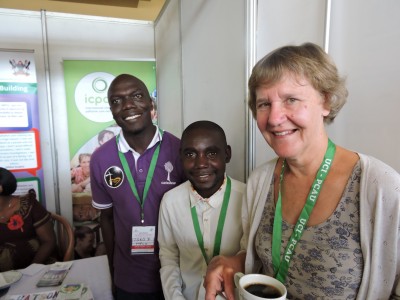 Toko, Ronald and Christine; thanks UCT for all your support