Blog: Developing Palliative Care in Mauritania

Cairdeas


25th January 2019
Dr. Dave Fearon is the Cairdeas Medical Director for the Sahara region. In this blog, he shares a fascinating insight into his work in Mauritania and the cultural differences that impact palliative care there.
"We at Cairdeas Sahara take a holistic approach to our patients. In addition to caring for their physical needs, we try to care for their social, spiritual, and emotional needs. As palliative care develops in Mauritania, we also acknowledge the need for a holistic approach to building capacity long term. It is not OK to just care for a few patients located in the capital and ignore the suffering of others. Therefore, we have an approach which incorporates training, advocacy and research. We are pleased to announce that we have recently had an article published in the respected Anglophone journal 'Palliative Medicine'. This article is based on research that ran parallel to a national palliative care capacity building program sponsored by Tropical Health Education Trust (THET) and Johnson & Johnson, between 2016 and 2017. I would like to tell you about the study - the participants and results:
The participants: We carried out interviews and focus groups with 76 research participants recruited from across rural Mauritania. These included 33 out of the 75 health care professionals trained in palliative, 12 recently bereaved family members and 31 community leaders.
Results: Overall, we found that the principles of palliative care were warmly welcomed by everyone involved. But it was often the family with direct experience of losing someone who most valued what we were proposing. In the article we discuss the following:
The strong belief in destiny leads people to believe that illness only comes when God decides it, and that the person will die only at the date, time, and manner of God's choosing. This view is based on a different perspective of human-God relationship than is found in Christianity. Death is not related to an illness, and therefore participants struggled with the idea of a life-limiting illness upon which palliative care is founded.
Doctors and nurses really struggle with communication regarding palliative care. In the past we have tried to train doctors and nurses in sensitively breaking bad news, such as a diagnosis of cancer or when it has to the bones. However, our research has illustrated how the problems with communication are much more fundamental. Doctors and nurses often provide no information, or misleading information. They fail to communicate the diagnosis or its treatment, irrespective of whether it is a simple, time-limited illness or a life-threatening illness.
Religious faith and cultural practices combine to create a uniquely Mauritanian perspective of a good death. No one is sure of where they will go after death and so the family try to look for reassurance and ways to increase the chances of their loved one getting into paradise. This occurs during life and after death, for example the family paying off any remaining debts left by the deceased.
This new knowledge and awareness has already been incorporated in how we train doctors and nurses in palliative care, and how we care for patients and their families. We are pleased that the nurse NDiaye, the champion of palliative care in Mauritania, was part of the writing team on this article. This will be his first academic publication and is a good start as he takes on more responsibility for the palliative care project over the coming months."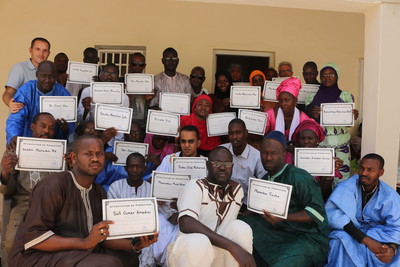 Dr. Dave Fearon (top left) with a group of workers receiving their certificates in palliative care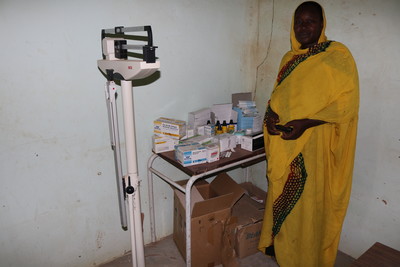 A rural care worker with a small supply of medications for her village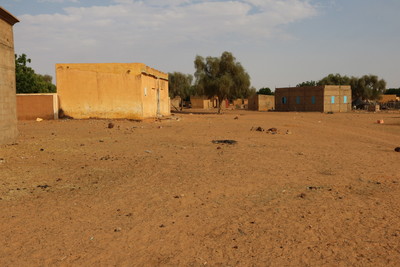 A picture of the clinic in which the rural care worker is based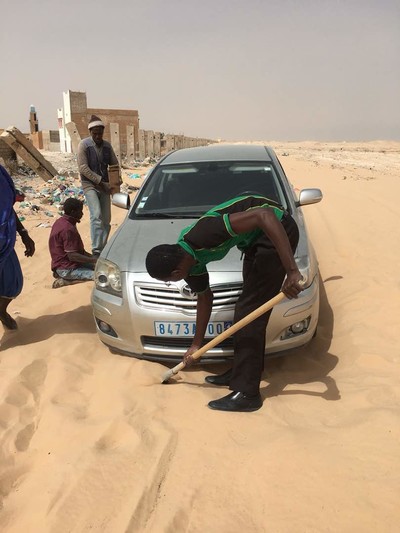 All in a day's work! A car is stuck in the sand during house visits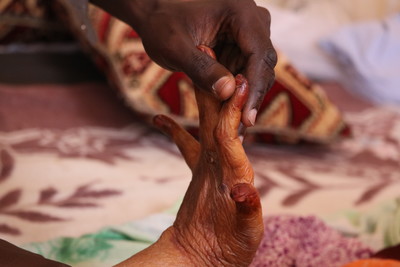 Reaching out, holding, caring, creating space