Blog: Compassionate Leadership Fellowship in India … Coming soon!

Hannah Ikong


9th November 2023
Inspire, Empower, Influence and Transform: this is the approach to mentor the next generation of palliative care leaders in India. In the above video for the October 2023 "Cairdeas Gathering," Dr Chitra Venkateswaran, Cairdeas IPCT Lead in India introduces the fellowship plans and work completed by herself, Dr Mhoira Leng and the rest of the steering group.
Alongside partners Believers Church Medical College Hospital (BCMCH), Global Health Academy (University of Edinburgh), Indian Association of Palliative Care (IAPC), and the RMD Trust, Cairdeas IPCT is proud to support this year-long advanced leadership programme.
Planning for the programme is quite well underway. In person meetings were conducted over the first week of October to finalise all content details and logistics. This has lead to an agreement with BCMCH to host the in person trainings for the fellowship, providing fellows and faculty with accommodation and a meeting hall.
The curriculum for the programme has been designed and tested in other international fellowships by steering group members Drs Mhoira Leng and Chitra Venkateswaran. Currently, there is a call for applications, from now until the 7th of December, for those practicing palliative care in India.
Cairdeas IPCT will be supporting the programme in purchasing assessment tools, assisting in faculty travel logistics and providing administrative support.
The Fellowship is scheduled to begin with a week of intensive training at BCMCH, Thiruvalla, Kerala from February 18th to 25th, 2024. There will be follow-up online sessions every month, and another in person training in February 2025. Mentors will guide the fellows and work together online and in person during the fellowship.
For further information, please visit the IAPC website for a detailed course description, official letter, and brochure. You can also email the fellowship administration team at clfellowship.india@gmail.com.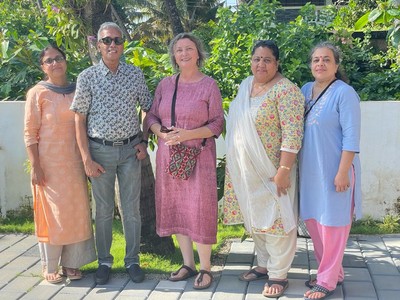 Steering group includes (left to right) Dr Leejia Mathew, KV Ganpathy, Dr Mhoira Leng, Dr Republica Sridhar, Dr Chitra Venkateswaran, and not pictured: Dr Savita Butola and Dr Rajam Iyer.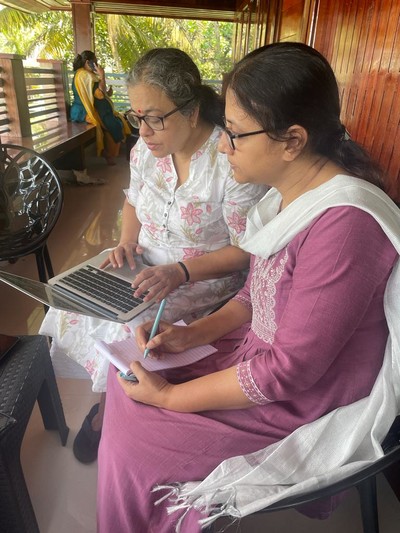 Fellowship logistic planning between Dr Chitra Venkateswaran (left) and Dr Leejia Mathew (right).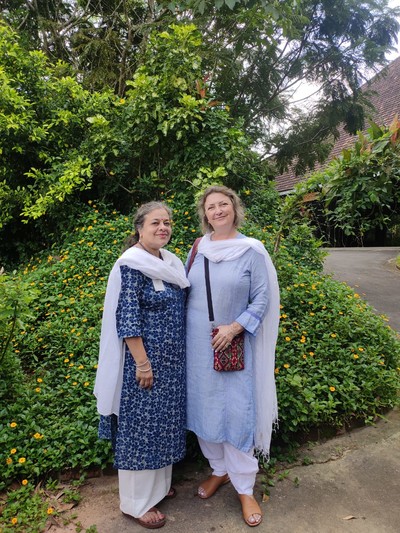 Planning over World Hospice and Palliative Care Day (WHPCD) -- wearing blue! -- Dr Chitra Venkateswaran (right) and Dr Mhoira Leng (left).