Blog: #BuildingAWorldThatCares with Cairdeas

Lakshmy Venkatesh


3rd December 2021
Hello all! For the past two years, the world has been struggling with COVID-19 and other kinds of strife and challenges. While the work of Cairdeas has been continuing despite restrictions and COVID-19 lockdowns, our supporters continue to be the pillars of our work. Our supporters provide us the ability to intervene in areas and geographies which remain unaddressed or partially addressed. We seek support not only in the form of funds but also in terms of time and skills. Through this blog, we at Cairdeas hope to inform our supporters of some of the different ways to get involved with our work and the immediate requirements on our end.
Donations
There are several aspects of Cairdeas' work that you can support by making donations. We work with partners to ensure people living with serious chronic illness have access to the help they need and deserve; help that improves their quality of life, helps with pain and other symptoms but also supports them in other ways such as worry, hope, choices, goals and dignity. This is what we call holistic palliative care and Cairdeas seeks to listen to the needs of people and build up services and train people to be leaders for this care in their own setting. We work to influence policy, develop training programmes, build teams, empower communities, mentor leaders and so offer high quality, evidenced based palliative care to the most vulnerable and marginalised. In this context, Cairdeas' interventions grow permanent sustainable palliative care services by the careful cultivation of local capacities through:
Trainings (building capacity of village health teams and healthcare workers to provide palliative care support in humaitarian contexts)
Scholarships (ranges from a day or week long course through to the 1 year diploma and 3 year degree programmes in palliative care at Makerere University and Mulago Hospital in Kampala with Hospice Africa Uganda)
Capital Expenditure (bicycles, transport, tech support and t-shirts for volunteers)
You can find details of how to donate to specific appeals or to set up a one-off or regular donation to the work of Cairdeas here.
Work with us
Through Cairdeas, you gain the opportunity to be a changemaker. We are looking for people who are passionate about helping those with life limiting illness and people forced to grapple with such conditions in under-resourced contexts. Are you one of those people? If you are, then Cairdeas offers you the opportunity to:
Join our board (Do you have skills in finance, fundraising and communications? The trustees are looking to strengthen their board with those who have skills in finance, fundraising and communications to support the work of Cairdeas. If you are interested or wish to discuss any involvement please contact Andy Smith our Chairman at chair@cairdeas.co.uk. Join a work culture that empowers every stakeholder to share ideas and take responsibility.)
Volunteer your time (Do you wish to engage in exciting work, often in challenging contexts? At Cairdeas, we aim to think outside the box. We encourage ideas and give responsibility to all supporters at all levels, to help solve the complex issues that we face. You will have many opportunities to be heard and take the initiative. We require support especially in the areas of communications, fundraising and digital engagement with our donors. If you think this is for you, please fill in the form by following this link.)
Get an internship (In the field, we work hard to solve challenges in demanding environments, often in hard-to-reach areas. We work professionally, with respect for all and focus on safety and teamwork. You will learn fast in a professional setting. We require support especially in the areas of communications, fundraising and digital engagement with our donors. If you think this is for you, please fill in the form by following this link.)
We rely on the generosity of supporters for us to in turn provide support to those in need of palliative care and palliative care training and so we also request all our supporters to share this information widely, with all those who might be interested in engaging with Cairdeas IPCT. Let's build a world that cares together!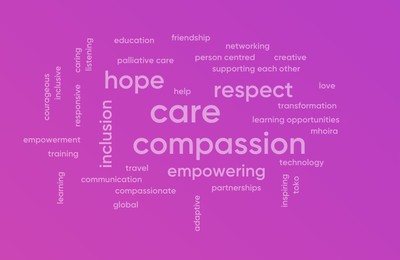 #BuildingAWorldThatCares