Blog: Bringing Hope to Uganda as a Volunteer

Cairdeas


8th March 2019
Toko Friday Santiago, a volunteer for PcERC in Uganda shares a story of how he brought hope to a refugee with terminal cancer...
Rita (not her real name) was a 49 year old refugee from Congo who was diagnosed with breast cancer which had spread to her lungs. She was married with two children, 24 and 15 years old. Rita's husband was her main caretaker. After spending several weeks on the surgical ward in Mulago hospital she was referred to the palliative care team by the surgical doctors for pain and symptom control. Being a member of the multidisciplinary team (MDT) as volunteers, we visited her and her husband. Though we had challenges with communicating with them because of a language barrier, we managed to establish a good rapport with both the patient and caregiver through an interpreter. We became very good friends and she was able to open up and share a lot of information regarding her fears and concerns about her illness. She was concerned whether she would be able to get treatment and a cure for the disease and feared she may end up dying and never to see her children again. 'I don't have money, I can't even afford investigations', she lamented.
"I want a cure; I want to go back to Congo and see my house and children"
Her main distress was overwhelming pain, an inability to walk and difficulty with breathing. She was bed bound and could not even turn in bed. The team prescribed her oral morphine, which the volunteers helped to get from the pharmacy and also educated her husband on how to give morphine, explaining that this will reduce her pain and improve her breathlessness. She was also encouraged to adapt to a sitting up position and other breathing techniques which would make her as comfortable as possible. Practically the volunteers were able to pick her drugs from the pharmacy and also help translating English language to the patient and family since they could only communicate in French and Swahili. We were able to liaise with Inter Aid, an organization that supports Refugees, who helped with providing food and upkeep to enable her to stay on the ward. After a few weeks her symptoms were managed, a biopsy was done and referred to the cancer institute. Unfortunately, she was asked to do more investigations – pre-cancer treatment – but she was unable to do this due the financial constraints. As volunteers we continued visiting her on the ward, spending time with her and at times praying with them. They were very grateful to us and the palliative care team saying… 'you are angels from God... We are refugees but God has sent you to visit us and comfort us please come always!'. We continued to liaise with the social work team but it became difficult to raise funds for her investigations. This was quite distressing for the patient, caregiver and us as volunteers. She was then discharged back to the Refugee camp and as she was leaving she said she was very grateful to us for the love, care and support given to them as strangers and wished God's blessings. 'At least let me go and see my children before I die!' Said Rita as she left the ward. Inter aid organized her transport back to the refugee camp. Her husband called to inform us of her death 2 weeks later. May her soul rest in peace.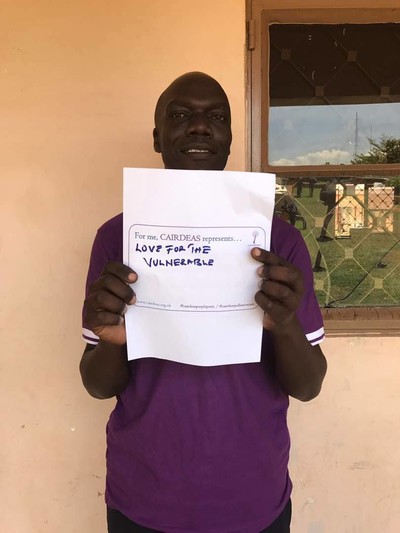 Toko showing what palliative care means to him