Blog: Bringing Hope to Uganda

Cairdeas


19th March 2019
Dr Peace Bagasha is the first renal physician and palliative care physician in Uganda. Peace writes below about a story of how she was able to bring hope to a young man with kidney disease in Uganda.
I stood by his bedside in Kiruddu Refferal Hospital watching him struggle to breathe in and breathe out. I had seen him multiple times on many hospital admissions over the past 12months. He was barely 35, almost the same age as me, but this time was different. We would not be having the same conversation about life and options as we had had before. We would not even be having a verbal discussion this time round. I had said "hello" earlier and the most he could manage was a smile when he turned and recognized my face. He had no energy to reply beyond the smile, he was saving every breath to just breathe in and breathe out.
In a way John was the exceptional one out of many of my end stage kidney disease patients. Fully aware of his personal financial situation, and having experienced the struggles of his older brother who was on dialysis, he had adamantly chosen not to even think about hemodialysis as an option. He chose from the very beginning maximum conservative management adamantly stating that "I cannot afford dialysis".
His family was seated around him fully aware that he had not many days or even hours left. He was not in pain. He was comfortable thanks to the care and support provided by the palliative care team.
With no national health insurance coverage supporting renal care, in Uganda patients have to pay out of pocket for renal replacement treatment including hemodialysis and kidney transplant. Costs range from 500,000Ugshs per week for dialysis to 100millionUgshs for a kidney transplant abroad. This makes hemodialysis inaccessible for majority of Ugandans. Some try to sell property and assets but funds soon run out and poverty levels worsen. Conservative care is the forced option for most.
With access to palliative care services provided by the palliative care team in Kiruddu, John and his family had the rare opportunity in Uganda to experience dignity and get holistic support at the end of life. Without financial support from people like you, many other Johns will not have an opportunity as special as this.
#BringingHope. Donate here.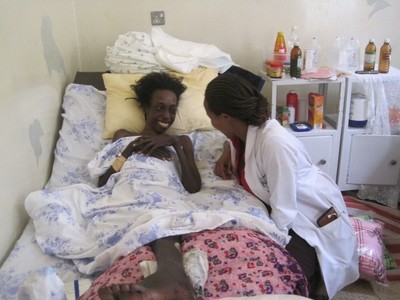 Dr Peace Bagasha with a patient in Uganda