Blog: An update from Uganda to our dear supporters

Cairdeas


2nd July 2020
To our dear supporters,
Hope we are all keeping safe during these times!
We want to appreciate and thank you for responding to our appeal for financial support and prayers during this period of Covid-19. We are delighted to let you know that our patient care has continued during this period and we are happy to bring you some updates.
Access to care and support
In the month of April, we cared for 22 patients in the hospitals as well as following them up by telephone especially for those that had been discharged or those that were very far away and couldn't make it to hospital for reviews.
The main challenge for our patients is access care and follow up during this lockdown period is transport as a result of the ban on both public and private transport, so we have supported them to meet the costs of hiring a vehicle or motorcycle to get them to hospital.
And he says …… "I am grateful for the love and care. It has given me hope and courage to complete my treatment without being worried of missing any of the treatment"
Patient AY's ray of hope during this difficult time.
" ….Covid 19 has robbed me of my family support, no one visits and they rarely call because you will tell them of your problems. I used to get my social support from my family but all is gone. I live in isolation only my neighbor tries to help me once in a while. Everything is a struggle I never stop to think and worry that if I died now my loved ones will not even be allowed to send me off decently. It is a terrible time and the worst moment of my life. Please keep communicating to me it's very reassuring to hear from people like you, you care. May God bless you and your team, I am now part of the palliative care family…"
Vicky's (Peace Hospice Adjumani) motor bike riding skills have been so handy during this period as she is able to ride and get to her patients and be able to offer care and support.
Vicky says "……Amidst this pandemic we need to hear a voice that gives hope and care, this was made possible by the airtime! My physical presence with the patients in the community hasn't only improved the quality of their life but it brought unity and peace in people's homes because the pain is gone. Today those referrals made directly to Lacor or Mulago near pass via the Palliative Care Unit, friends even amidst challenges there is something for us to learn, lets trace it….. " Vicky
My motivation comes from the smiles of Hope of my patients!
Toko Friday is our volunteer coordinator and he directly supports palliative care patients as part of the multi-disciplinary team, during this period he has continued to bring joy and hope to the patients and families, he provides psychosocial, spiritual assessments and support, helps patients navigate complex networks, refers patients to other services and offers practical support such as accessing medications and physical exercises.
However, during this period due to the government's measure of a ban on public and private transport getting to the hospital he has to walk 18.6kms to Mulago and back in order to offer support to patients with palliative care needs and along the way he encounters different police checks and being a rainy season sometimes the heavy rains hinder him as he walks but because of the love and passion he has for the vulnerable patients he endures all this so he is able to continue offering the help and support even during these difficult times and moments and his motivation comes from seeing his patients smile with hope as they appreciate his care and support.
Connecting!
Being able to access internet during this lockdown has made a huge different and enhanced our interactions with other palliative care providers locally and internationally as we are able to join various discussions on issues emerging as a result of Covid-19 and the impact on palliative services, we have been part of these, learnt and shared.
Locally the Palliative care Association of Uganda (PCAU) has organized zoom meetings for the palliative care fraternity in Uganda, these are weekly discussions and are ongoing. Some of the topics we have discussed have included;
Psychosocial support for people affected by the COVID-19 pandemic
Cancer services in Uganda during Covid-19 – response.
On International Labour Day; recognizing and honoring all palliative care providers that have contributed to the growth of this specialty in Uganda.
The right to Palliative care Uganda, during the Covid-19 pandemic outbreak
The aim of these discussions to remain updated on what is happening, challenges, suggestions and support solutions to the Covid-19 pandemic.
The African Palliative Care Association also organized a discussion on; Strategies to engage African communities to be proactive in the prevention of COVID and we were happy to be part of it.
ICMDA webinar: Palliative care of Covid-19 patients in low resource settings by Dr. Mhoira Leng
These are just some of the sessions that we have participated in but they are so many and we have learnt a lot and continue to learn.
Self-protection!
Our team is dedicated to providing the care and support to the patient and their families but they also need to feel protected and now that we got the equipment, we will do our best.
"We expect to offer good health for everyone and a comforting and dignified death for those departing" Florence
We thank you for your continued support.
God bless you all and please stay safe!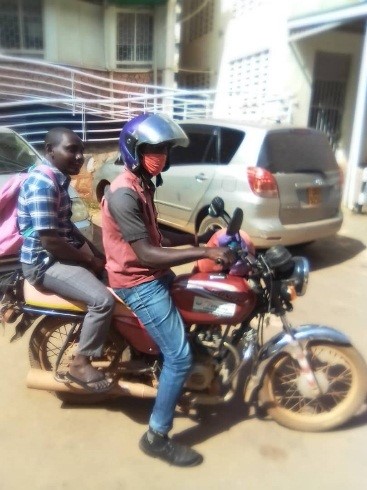 Ronald on his way to the Cancer Institute to receive his radiotherapy treatment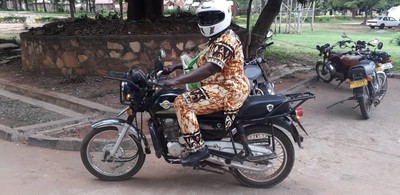 Vicki and her motorbike getting out to her patients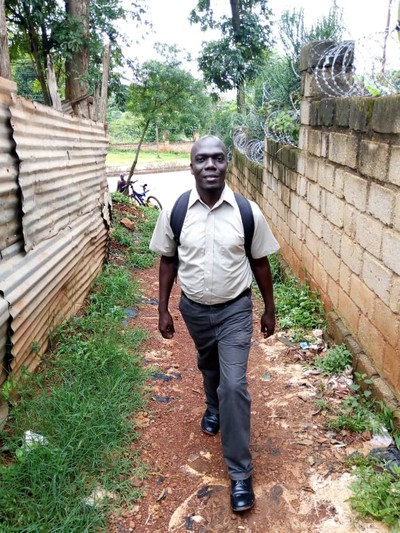 Toko walking to work
"We expect to offer good health for everyone and a comforting and dignified death for those departing" Florence