Blog: An Inspiring Day at the SPCC Annual Conference

Cairdeas


28th January 2019
Cairdeas is pleased to be a member of the Scottish Partnership for Palliative Care (SPCC). We firmly believe that networking, sharing, collaborating and learning together is the best way to promote and advance better palliative care for all. Whilst the focus of the SPCC is largely within Scotland, they regularly reach out to their neighbours within the UK, and to partners working internationally – such as Cairdeas - to learn about best practice and case studies from throughout the world.
We were delighted to have a number of Cairdeas delegates attend the SPCC's annual conference, which took place in the Royal College of Physicians in Edinburgh in November, and to share the word about what we do via an information stand that we had on the day. It was a wonderful opportunity to meet faces old and new, and to hear fresh thinking from those who study and work in palliative care.
Chief Executive of SPCC, Mark Hazelwood, chaired the day, and kept delegates on their toes by using interactive technology to collect the names of a song or piece of music each of us would like to have played at our funeral. A dizzying array of songs and artists (from ABBA to Led Zepplin, Ave Maria to Bohemian Rhapsody) appeared on the screen behind Mark, which immediately set the scene for a day that was focused on the personal: a day of stories. Each of the speakers had his or her own unique take on the conference title: "The Sense of an Ending: stories, meanings and understanding."
Kristian Pollock, Professor of Medical Sociology at the University of Nottingham, opened with a challenging presentation that was based around her qualitative research on end of life care. She gently challenged the notion of a 'good death' and reminded us to not to use the term as a whitewash or to use it to paint a picture of death through rose-tinted spectacles. Of course, we ought to all seek to have a 'good death', but we might be building unrealistic expectations if we do not also acknowledge the hard decisions and unanticipated feelings.
Christian Busch, Hospital Chaplain in Rigshospitalet, Copenhagen told us that, in his experience, people at the end of their lives often aren't seeking answers but are seeking presence: a witness, someone to be there with them. His presentation drew on the work of Søren Kierkegaard, Danish philosopher, theologian and poet whose basis for helping others was: "to take care to find him where he is, and begin there." Christianstressed that feeling extreme anxiety at the diagnosis of a life-limiting condition is a healthy and normal response to having lost control of all those things we once had control of. As a chaplain, he is there with people at the end of their lives to help them look backwards, and to look forwards; to help them identify what brings their life meaning and how to bring what is meaningful to bear in the last days of their lives.
Dr Donald Macaskill, Chief Executive of Scottish Care, also expanded on the importance of the psycho-spiritual care alongside medical care and pain relief. Scottish Care organisation has almost 1,000 care home/housing support services as members and he had many stories – not least that of his own grandmother - of exemplary care as people die. Hearing their story, reviewing their life was, Donald felt so important to brining that 'sense of an ending' for both those leaving and those staying behind.
This is always an inspiration day and we look forward to the next SPPC conference in September 2019.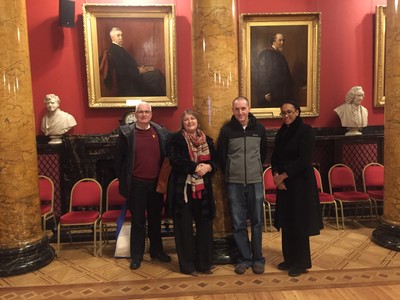 Some of the Cairdeas delegates at the SPCC Conference - trustees, staff, and Cairdeas Faculty: Grahame Tosh, Dr. Mhoira Leng, Dr. Dave Fearon and Dr. Nahla Gafer