Blog: A vision of palliative care in India from the Aeli Hills

Cairdeas


17th May 2019
The 26th International Conference of Indian Association of Palliative Care, or more commonly known as the IAPCON 2019, was held on 8th to 10th February this year in Kerala. The conference was a huge effort but also a major success, with over 1,000 people attending from 16 countries from around the world. The theme was 'Voices, Ensuring Quality, Creating Solutions'. This allowed for a wide variety of speakers both national and international, from different disciplines within the palliative care family. This included perspectives from the 'voiceless', with excellent contributions from palliative psychiatry. Cairdeas India faculty lead, Chitra Venkateswaran specialises in palliative care and mental health and is now working for the Believers Church Medical Hospital as Head of Department for Psychiatry with a joint round in palliative care. You can read Chitra's conference editorial at the Indian Journal of Palliative Care.
Cairdeas was represented at IAPCON2019 in several ways. Mhoira sat on the scientific committee, which worked hard to ensure a range of topics to cater for the multidisciplinary nature of palliative care. We presented in the main session, and abstracts were all well received. At the IAPC central council Mhoira submitted a proposal to begin a working group looking into palliative care in humanitarian settings in India. This seemed particularly significant due to the location of the conference in Kochi, where they recently suffered a devastating natural disaster in the form of floods. The proposal was approved by the committee, so we look forward to seeing how this working group progresses.
Cairdeas scholars Vicky Opia and Peace Bagasha performed incredibly well at the conference. They contributed to 3 parallel sessions, 3 posters and 3 oral presentations along with Julia Downing from the Uganda team. We were delighted to win 3 prizes for oral presentations. Peace also travelled to Hyderabad to review renal transplantation as part of her other roles. Vicky spent some time visiting Mehac and Kochi Government Hospital community programmes.
With over 1,000 people present at the conference, representatives from around the world and across the palliative care sector, and a wonderful display of Kerala culture, the future looks bright for palliative care in India.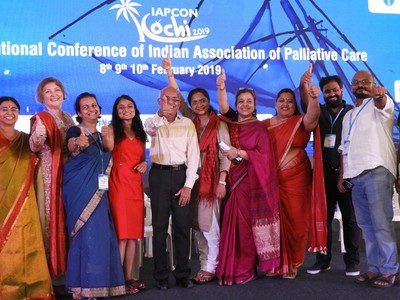 The Scientific Committee at IAPCON2019