Blog: A jam-packed palliative care weekend in Edinburgh!

Cairdeas


6th November 2017
September saw the amalgamation of various Cairdeas events in south-east Scotland to create a jam-packed weekend of exciting activities, discussions and updates: Cairdeas Ops Director Dan Knights shares some highlights...
The weekend kicked off on Saturday 16th September with a special meeting of our trustee board. Due to the team being spread across the UK, it was a welcome opportunity to connect face to face, but also a chance to turn our minds to the broader strategy of Cairdeas. Building on the excellent work that was put into our previous strategic plan, we are now in the process of updating this and laying out our vision for the few years to come – watch this space for more updates!
That very afternoon, we gathered some of our faithful supporters at our annual Gathering in Kirkintilloch Baptist Church. It was a real pleasure to link up with old friends and new friends, and to hear from Mhoira and recently returned volunteer Alice about the ongoing exciting work in Uganda and elsewhere, and also a chance to kick off this year's purple party season with a fantastic array of purple edible goodies, with purple outfits to match!
Two days later saw the inaugural meeting of the Cairdeas Faculty – an initiative where we are looking to formalise and develop the way we work with those numerous experts in global palliative care who have provided mentorship, training and other support through Cairdeas in the past, or are interested to do so in the future. The experience in the room was immense and we had some very rich discussions about the challenges, priorities and opportunities for this group going forward. We are hoping to offer opportunities to use people's talents both through short term international trips, but also through the development of resources from the UK which will support our work internationally. Again, watch this space for more details and do get in touch with me on operations@cairdeas.org.uk if you would be interested in getting involved with this group.
These meetings were all planned to also coincide with the Edinburgh Global Palliative Care Day, which is coordinated jointly between Cairdeas, the University of Edinburgh, and other partners, and has become an annual diary fixture and great chance to build relationships and network with others sharing a passion for developing palliative care globally. This year the focus was on universal health coverage and leadership, with stimulating talks ranging from Dr Jane Bates' insights into her PhD work looking at palliative care as a means to alleviating poverty, to our own Mhoira Leng sharing on the relevance of palliative care in humanitarian crises, to a new way of sparking discussion on actions and ways forward in the form of an ideas café! Our friend and colleague Julia Downing has reported on this event in an eHospice blog, so do check it out for more details!
From a personal perspective, this first run of Cairdeas' key meetings with me in the Ops Director role was a great chance to meet with colleagues face to face. Primarily working from home and only communicating with people via the internet can be pretty isolating, so the buzz of bringing so much enthusiasm together into one place was palpable for me! It's particularly exciting to see Cairdeas taking an active role in contributing to the coordination of bigger events such as the Edinburgh Global Day, and to see our much-discussed plans for the Cairdeas Faculty beginning to come to fruition!
It was also great to see people decked out in their purple party-wear and raising awareness of what Cairdeas means to them - and various of you have followed in their footsteps with your own #cairdeaspurpleparty! If you didn't get a chance to run one this year, keep your eyes peeled for next year's campaign!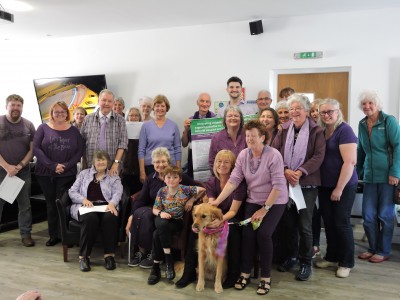 Cairdeas Gathering 2017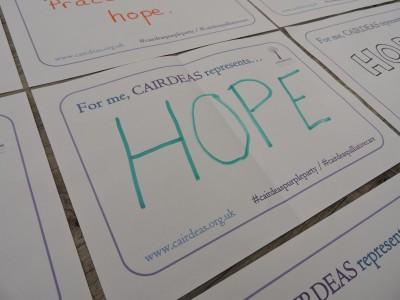 What does Cairdeas represent for me?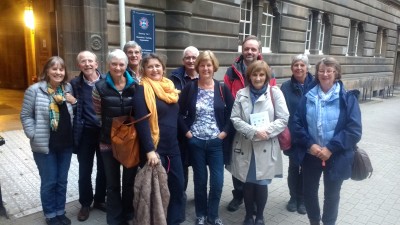 Cairdeas Faculty is born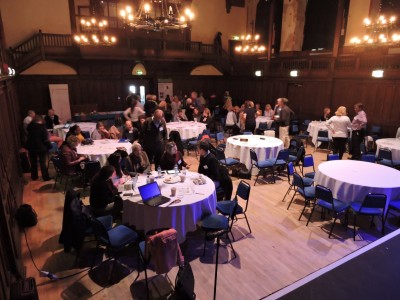 Momentum gathering for global palliative care at our annual meeting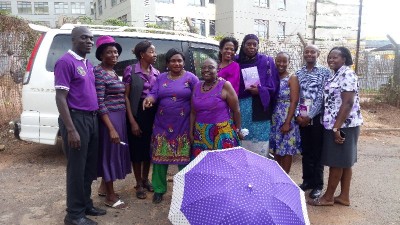 MPCU team in glorious purple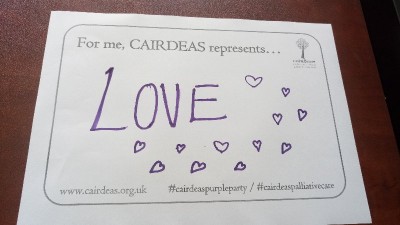 What does Cairdeas mean to you....love