A bus ride to Northern Uganda
Uganda isn't only Kampala; head out of the capital city and via bus, travel some 350 km of newly paved roads to Adjumani district. Welcome to the wide, open spaces of Northern Uganda!
Words cannot describe the difference from leaving the concrete and metal expansions of Kampala neighbourhood traffic jams to reaching large expansions of open road with a birds eye view of fields, valleys and mountains in the 'up country' of Uganda. Ready for the experience? Simply purchase a bus ticket (priced around £8 or $10) in a clustered metro office, keep your backpack on the front of you (no pictures! Pickpockets loiter in public transport areas) and climb onto one of Uganda's many colourful buses headed out of the city.
Your ticket reads "Adjumani" – pronounced 'Add-jew-man-nee' by the conductor, an 8 hours' trip on a good day, and you settle down in your seat overlooking the window. We cannot glorify the first hour of the trip; the bus weaves slowly through the capital city's traffic and you people watch those busy in their shops, commuting, shopping, or sitting and watching you. Yet you can clearly tell when you've left the outskirts of Kampala – the busy picks up steam, moving from the prior 30-40 km/h to over 100, and the countryside opens on both sides of the road.
Many will tell you that the roads outside of Kampala used to be soil (unpaved), gutted in tire tracks, and not safe for night travel. Not so in 2023: your route to Adjumani is paved and smooth (outside from a few large potholes near the speed humps of police check points; perhaps these holes have been left to encourage drivers to slow down). You pick your camera out of the backpack and take plenty of landscape pictures of the view. Rolling hills of dark green slowly morph to flatter savannahs, dried by the heat and lesser rains. The farther we drive from the precipitation-heavy capital sitting near Lake Victoria, nature appears more rugged and desert-like.
One sort of novelty on a Ugandan nonstop charter bus is that it does stop quite a few times. In addition to the spaced police checkpoints, drivers get hungry and often park the bus in marked outdoor food vendors, where as soon as the bus stops, dozens of food sellers surround the vehicle. You can either be taken aback by the eagerness of the food sellers or marvel at the convenience: with special sticks; they'll hold up crates of water or soda right at your window. You can also purchase food; long, starchy sticks of fried cassava, roasted plantain (called gonja), roasted chicken or goat's meat, and fresh bananas are some of the snack options of the day.
At another bus stop, you can complete your fresh grocery shopping: sellers bring tied bunches of pineapples to your window, baskets of tomatoes and onions, large bunches of bananas, or dozens of mangos. Buying directly from the grocers on the road is a benefit to you; their prices are much, more lower than those in the city. Plus, you have just saved them transport costs to shipping their fruits and veg to the capital, thus creating a greener planet. After the fourth bus stop – a bathroom break from the generous driver – you nestle in your seat, full from the snacks and feet covered in bags of groceries. Time to get a little shut eye before reaching Adjumani.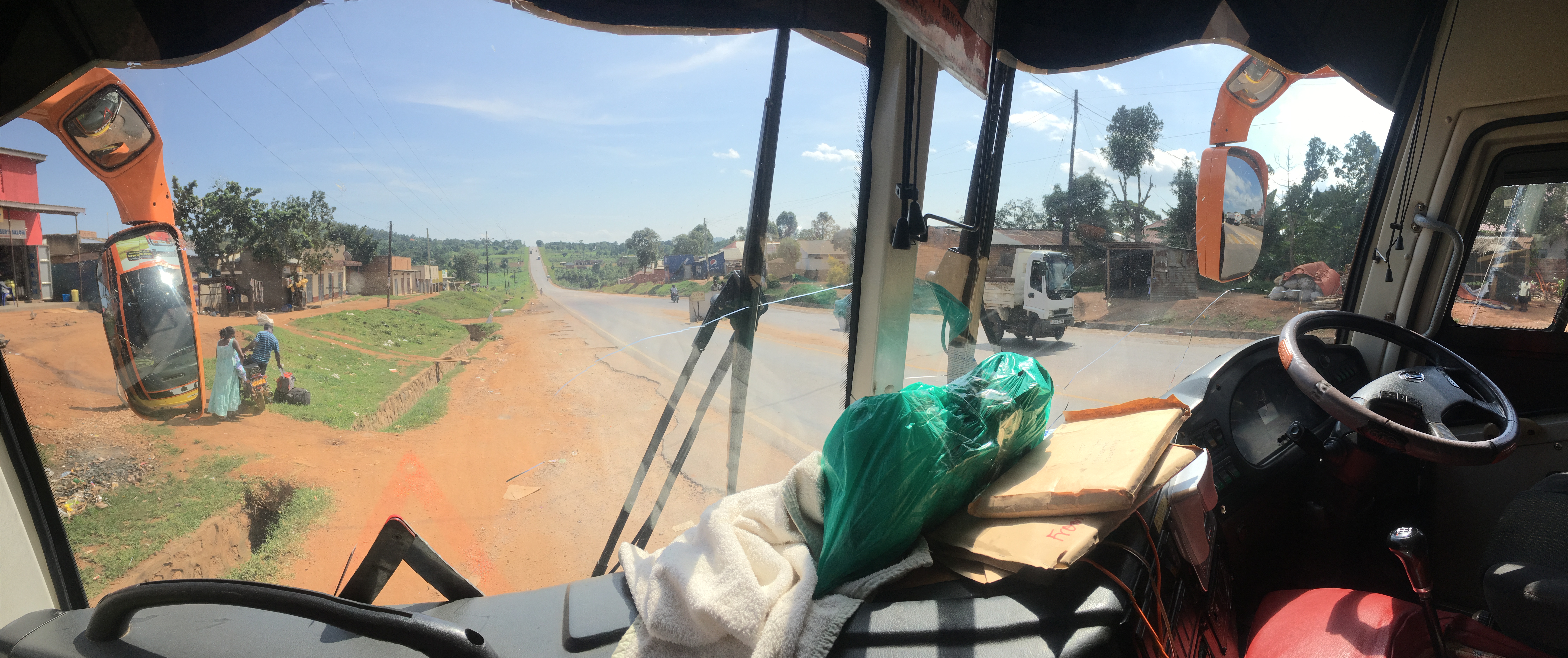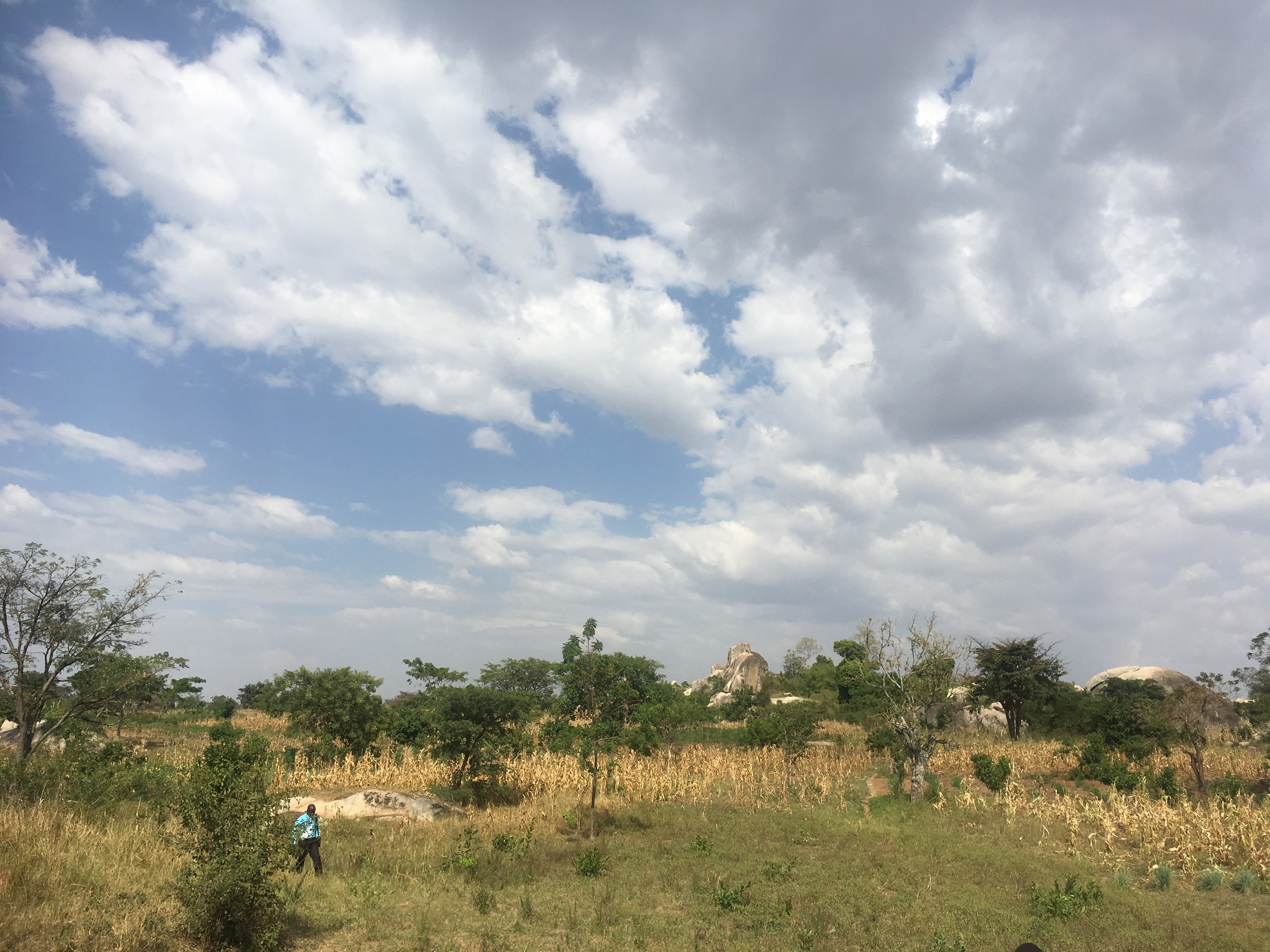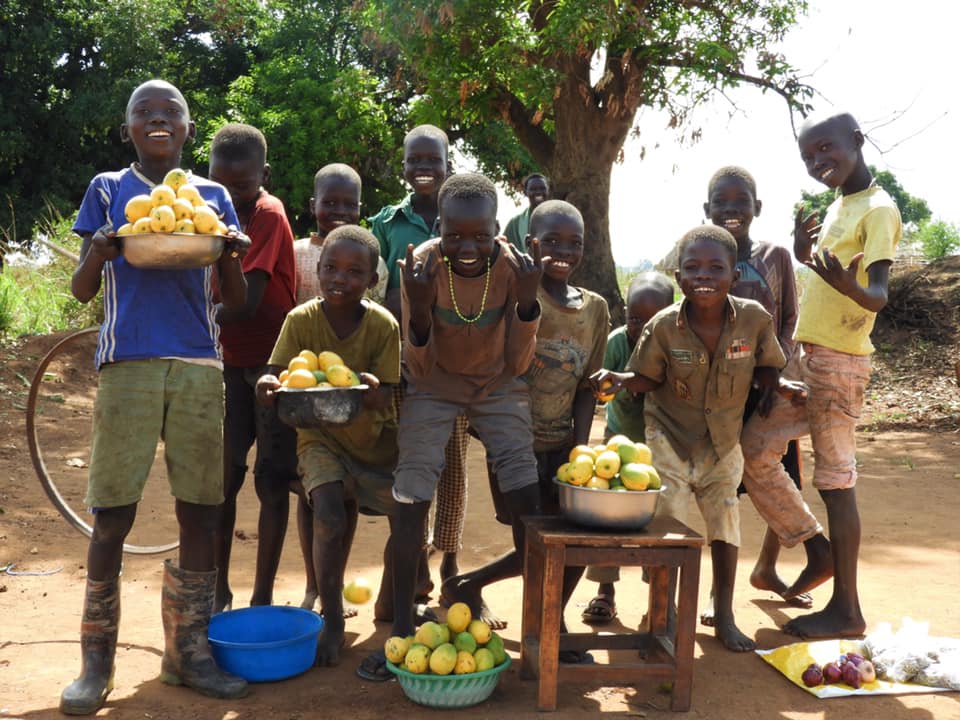 Bird of the Day

Egyptian Goose
Just like we've travelled quite far today, these birds will migrate for better water sources in drought. However both were pictured in Uganda! Check out the profile of Egyptian Goose for more details.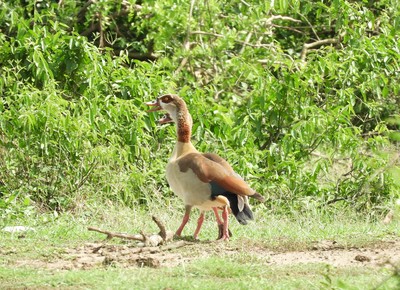 Bird of the Day: Bonus

Yellow-Billed Duck
Quite present in Eastern and Southern Africa, the Yellow-Billed Duck is easy to recognise in sound and appearence.