Latest news: Cairdeas Gathering, 5th December in Aberdeen

Cairdeas


1st December 2018
You are warmly invited to join us for our annual Gathering of supporters and friends old and new of Cairdeas International Palliative Care Trust, to hear updates on our work all over the world over the past year, and to hear how you can support our work.
The Garthering will take place on Wednesday 5th December 2018 from 7pm to 8.30pm in Gerrard Street Baptist Church, Aberdeen
The event will be hosted by Cairdeas' Medical Director, Dr Mhoira Leng, Cairdeas Trustee, Jacqui Mackintosh and Gerrard Street Baptist Church, long time supporters of the work of Cairdeas.
Dr Mhoira Leng is back in Scotland for a short visit. Mhoira spends most of the year working in Kampala, Ugadna as Head of Palliative Care for the Mulago and Makerere Palliative Care Unit, and this is a unique opportunity to hear first hand about the work and progress of Cairdeas.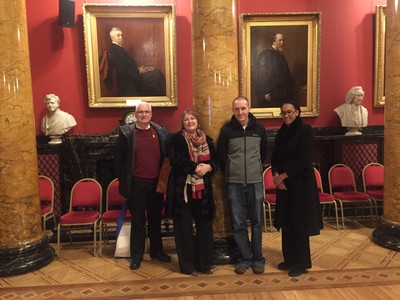 Dr Mhoira Leng (centred) pictured in the Royal College of Physicians during her recent trip to Edinburgh. Also pictured (left to right): Grahame Tosh, Dave Fearon and Nahla Gafer